Erasmus in Estonia: Many of you have asked me how I was doing in "the Estonia" and what exactly the Erasmus program is, so I have decided to summarize a few words right here. Calmly after a reasonable period of time.
Erasmus in Estonia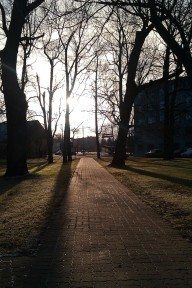 It's been three months that I landed at the airport in Tallinn with my 20 kg baggage and hopped on the first bus to the student town of Tartu in southern Estonia. These three months have passed pretty quickly. The days are shorter now, the weather is cooler and the sun does not shine that much as in August. And when it does, it looks like it is just about to go down. Actually, past weeks it looks like this all of the time.
September has passed very quickly and was associated mainly with the administrative part of the whole Erasmus (this time here in abroad). I had to choose subjects that I will study here, which was quite hard to do, but with the very kind help of all people around me I luckily made it . I had to choose subjects that were evaluated together at least 30 credits, I had to have a minimum of 5 subjects and were not allowed (or should not) be at the same time in my personal schedule. In this I failed and my Thursdays are funny. Last Thursday I had a presentation from one subject and at the same time I started consultation from another project. Sometimes I need Hermione's time machine. This is Erasmus in Estonia.

When it all went okay I had enough time to enjoy my new life on students dormitory, since I had never lived on campus . To my great fortune the dormitories here in Estonia are incomparably on a higher level than in Slovakia ( what's wrong ? ) . My first roommate in my life on campus was Oscar from Spain . I made a lot of fun of him because his daily routine was completely reversed to mine. Oscars day began about a half past one in the afternoon. After waking up he always prepared his food in the pan and then he ran to the school. At 4pm, it was time for siesta, what lasted only two hours and from 9:30 pm was Oscar missing till next morning. Such a carefree life. His lifestyle has taken an effect on our common life and after a month he moved to the dorm what was in the city center, close to all pubs and clubs. For a month I was living alone and now there is an Estonian guy. I do not know his name , we do not talk much and I do not know if it's the Estonian mentality or his not very good English.
October took place fairly quickly , I do not remember anything important and my erasmus in Estonia is going pretty well . Just my little top secret visit of Slovakia and transporting of sheep cheese dumplings for the whole Erasmus staff on campus. Oscar liked it the most. It was a few days before his departure. In October I met old friend Annegret, that I met a year ago on holiday in Majorca . She is from Tartu and once we started to talk about how I am going to study in her city, we finished this conversation over a good cup of tea in her town one year later.Yes, thank you Facebook for keeping this friendship . In October I was shown in Eindhoven, the Netherlands , but it belongs to a different article.
This trip has remained in mind as a 3 hour wait for the delayed plane. The return was the same, again hourly waiting for the plane and running through the airport terminal to the last bus Tartu. With others we had planned a trip to Helsinki , but the day before leaving the ferry , I received a text message that shipping is cancelled due to storms at sea . Helsinki maybe next time… I would like to visit the city of Rovaniemi as well, in the north of Finland, where Santa Claus lives :)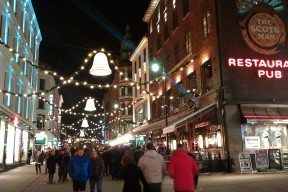 In November , I spent 10 days in Slovakia . God bless cheap Ryanair flights . A long three- hour flight from Tallinn to Milan Bergamo I slept, then a night spent waiting for another flight at the airport ( I already have experience with sleeping in airports , so it was kind of fun ) . The aircraft landed exactly at 00:00 to Milano Bergamo airport and flight to Bratislava was about to depart at 10 am. So why do not sleep at the airport ? It's not that uncomfortable as it may seem to someone. Just take a good book , bar of chocolate and find a cozy place at the airport . This night has passed very quickly. You would be surprised how many people spend the night at the airport . I saw mothers with children or pensioners. But the largest representation is made by students . During this night was made some new friendships. I watched a bunch of Romanian girls and Italians Ragazzi. At midnight, the boys asked girls to watch their baggage while they went for a cigarette. At the 3 am was girls on the knee of Italian guys sipping an unknown type of alcohol.
The next few days in Slovakia took place normally and I was waiting for me way back . This time with the night in Oslo. The original plan was to sleep at the airport again, but Norway is a country that I have always wanted to visit so I despite abnormal prices for hotels and decided to spend the night in the Norwegian capital. And it was definitely worth it! Regardless, the pizza Margherita is in Oslo 12EUR I really liked it there . Very lively , full of businesses , restaurants and clubs . On the pic below you can see Christmas decorations in Oslo. During the morning flight to Tallinn , I was enjoying the Norwegian and Swedish countryside from the air. Back to my erasmus in Estonia.

And here it is – December and I am curious what will happen .The studies here are not very difficult . I feel like on vacation from school in Slovakia . Maybe it's the fact that we are "only" Erasmus students and have come here to have fun…or? I really like subject called LANDART where we do different kinds of art in the nature of natural materials and creative stuff like this. The professors are great, especially the Estonians. 
I believe that I have answered all the questions of my friends and family members and I hope that the question " how is it in Estonia " will never hear ! I'm kidding ..
PS . : Tere means " hello"
Milan Bardún 2013