---
TIP: Po 9 rokoch blogovania vydávam debutovú knihu INFLUENCER, ktorá však nie je návodom ako cestovať lacno, no osobným pohľadom na zákulisie "dokonalého" života jedného influencera, Milana Bez Mapy.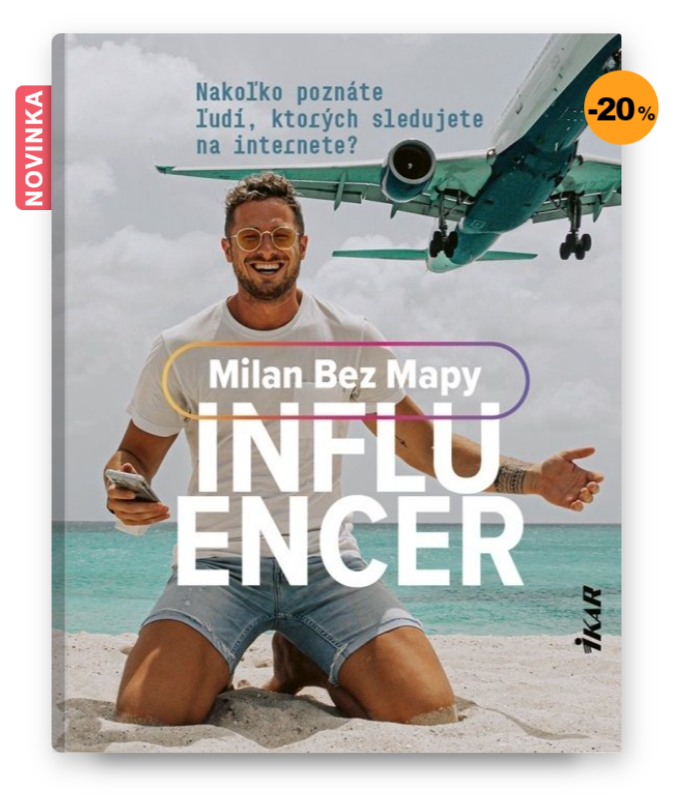 Je to otvorená spoveď bez filtra o tom, kto stojí za značkou Milan Bez Mapy, jedného z najčítanejších cestovateľských blogov na Slovensku. Prečítajte si ju a sledujte ma na Instagrame @milan_bezmapy.
---
The capital of Ireland – Dublin is great city to visit. You will never be bored here and there's always something to entertain with, to look at or to taste. It's worth to visit it for longer than just for ONE day, but those unlucky, who have busy schedule – don't worry! You can make Dublin in one day and here's the list of what you shouldn't miss.
TWO RANDOM FACTS ABOUT IRELAND
Did you know, that except of the English language, there is also Irish language spoken in Ireland? At first I didn't, as well. If you want to say "Dublin" in Irish, it is "Baile Átha Cliath" and almost everything in Dublin is written multilingual, from bus stops to guides. I must say, that Irish language is interesting and in some way, it reminds me of Icelandic.
The national symbol of Ireland is harp, but originally it were to be bagpipes, however the English invaders haven't allowed  Ireland to use them as the national symbol.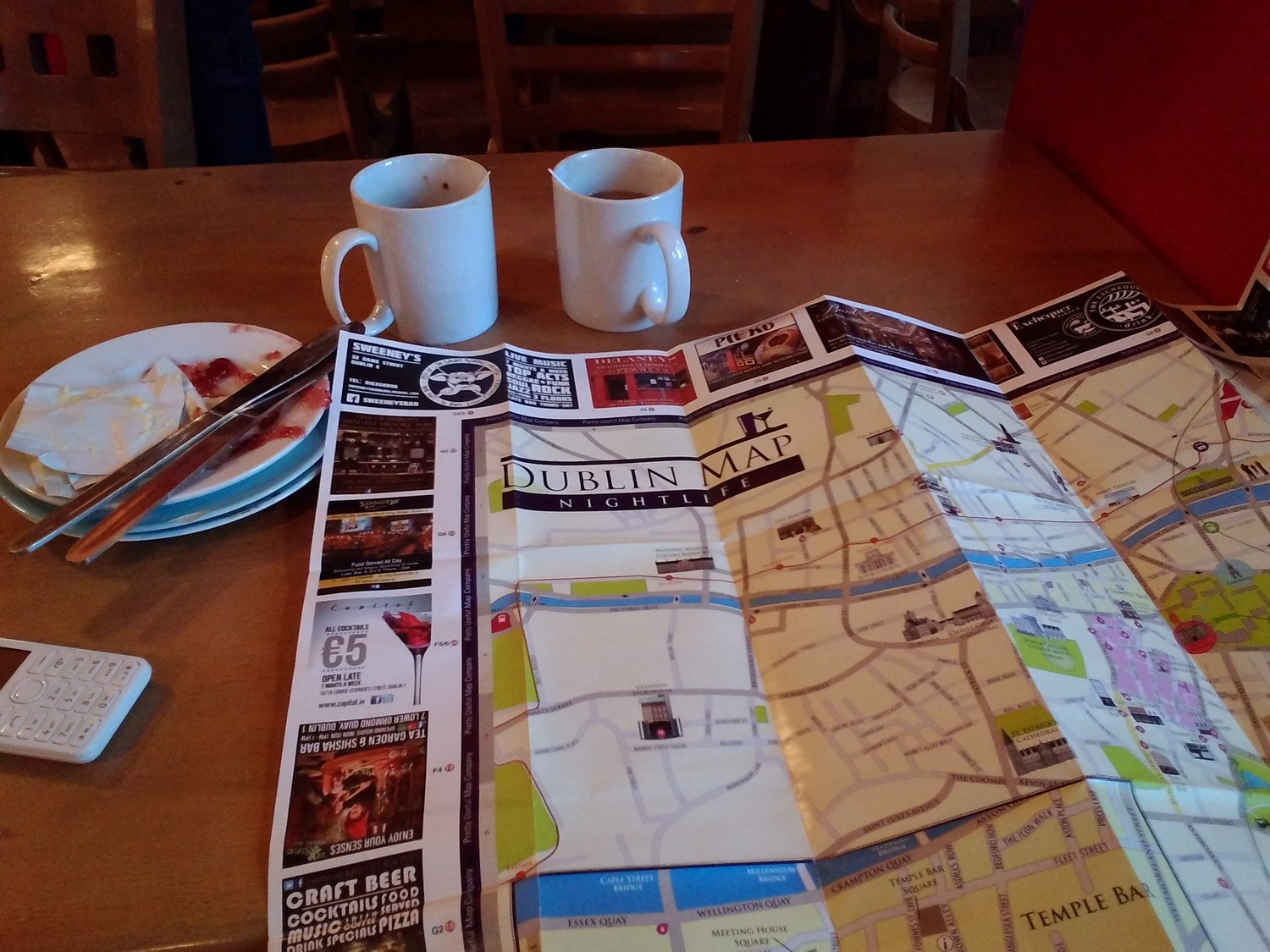 getting ready for the one day in Dublin
PUBLIC TRANSPORTATION
The old town of Dublin is not very spread and all points I will mention in this post (except of one –  Poolbeg lighthouse) can be reached by walking. From my experience, the public transport in Dublin is pain – even the ride from the airport to the old town takes ages, so if you can, avoid using it. And one important note, in Ireland as in the whole England, cars drive on the left side.
SCHEDULE YOUR DAY
09.00 – 09.20 St. Patrick's Cathedral
09.35 – 10.00 Christ Church Cathedral
10.20 – 11.00 St. Stephen's Green
11.15 – 13.00 The National Gallery Of Ireland
13.15 – 14.15 Trinity College
14. 25- 15.30 O'Connell Street and its giant needle
15.45 – 16.45 Dublin Castle and its gardens
17.00-17.30 Dublin City hall
Temple Bar
ST. PATRICK'S CATHEDRAL
Was build in 1192 and today it is the largest church in Ireland. The entrance to this medieval cathedral – probably Dublin's most favorite spot among visitors costs 6 EUR for adults and 5 EUR students. If you are with big family, get family ticket for 15 EUR. Tickets can be sold from official websites or at the place, where you can find many useful historical facts about this great cathedral.
stunning St. Patrick's Cathedral waking up in the early morning
THE CHRIST CHURCH CATHEDRAL
This cathedral opens at 9.am for those, who want to come in. Official websites say that Christ Church Cathedral is highly visited because of its awesome interior and medieval crypt that lies under the church, where the mummified Cat & the Rat can be seen. Tickets can be purchased on-line here or at the place for 6 EUR for adults.
Christ Church Cathedral
ST. STEPHEN'S GREEN PARK
If you are fun of landscape architecture, definitely do not miss St. Stephens Green Park designed by William Sheppard, officially opened in 1880.  Until the 1663 this area consisted of marshes and used for grazing of animals at the edge of the Dublin. The entrance to the park is for free, but mind opening hours. The park opens from 7.30 am during weekdays and 9.30 pm on Sundays and holidays. It closes according the sunlight hours.
THE NATIONAL GALLERY OF IRELAND
The collection of Irish and European art is here for those, who love art. The gallery is opened from 1854 and the entrance is voluntary. You can find there pictures by famous artists like Claude Monet or Pablo Picasso and If you are looking for specific picture, ask ladies at the reception and they will guide you to the picture, since the gallery has a large collection of pictures.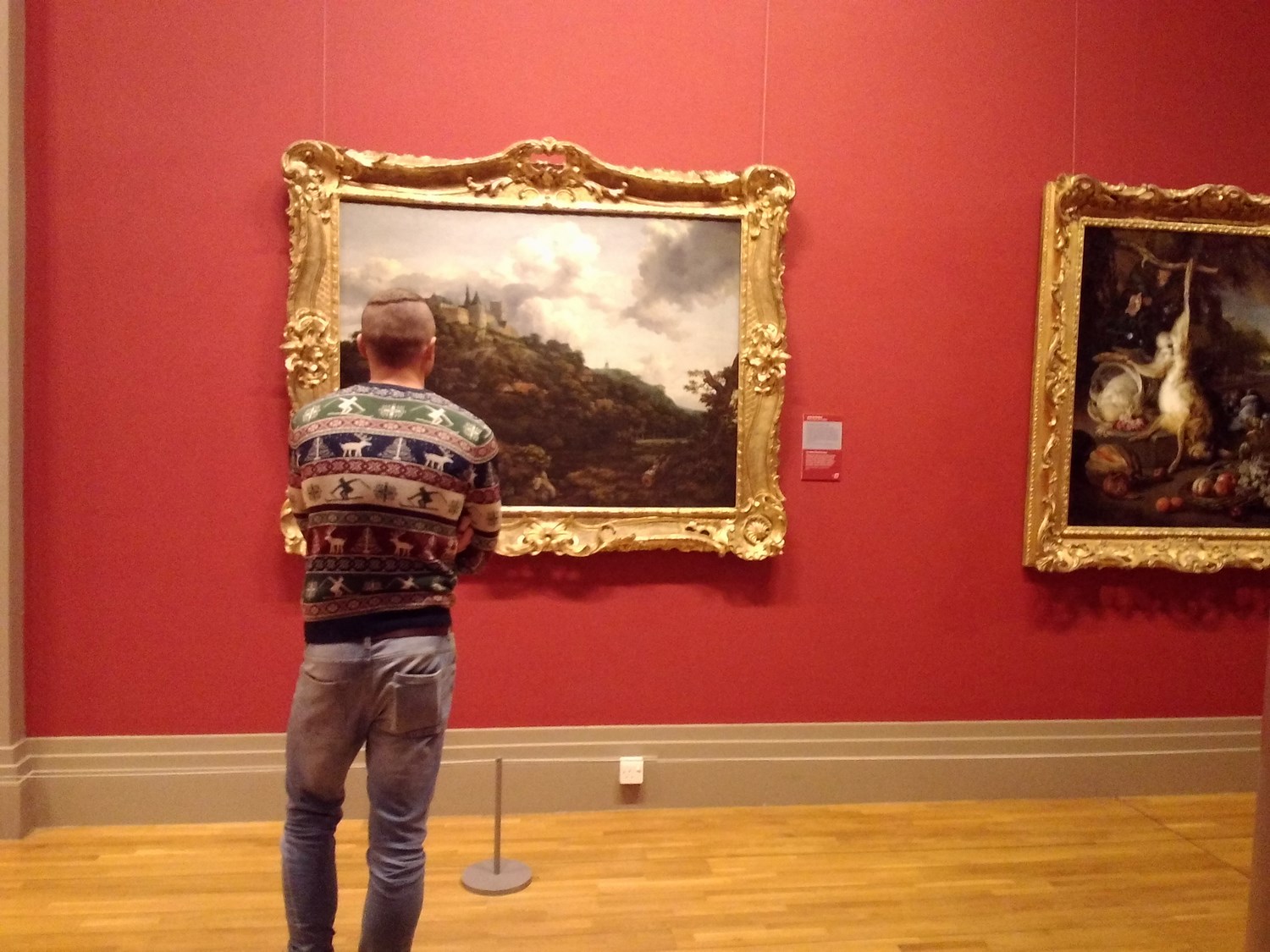 discovering the treasures of the National Gallery of Ireland
THE LONG ROOM AND BOOK OF KELLS
Another hot spot of Dublin you can not miss is Trinity college, just almost across the street of the National Gallery of Ireland. The Book of Kells was produced in the 9th century by the monks of Iona and was sent to Dublin around 1653 for security reasons during the Cromwellian period. The exhibition includes audio guide and large-scale details from the book. The exhibition continues to the Long Room, which is the main chamber of the Old Library of Trinity collage. It is 65 meters long and contains 200 000 books in oak bookcases. Many people think that this is the library, where the Harry Potter movie was shot, but sadly, this is not true, although the library looks almost the same. The entrance is 10 EUR adults and 8 EUR students and prepare yourself for standing in the row for tickets around 15-20 minutes.
breathtaking Long Room library
O'CONNELL STREET and its GIANT NEEDLE
O'Connell street is one long street, where you can do a lot of shopping, where you can have a lunch or dinner or just walk by and some sources say that it is the widest street in the Europe.  The street is pretty busy and if you happen to be in Dublin on Christmas, you will see amazing, well decorated Christmas tree, standing high above Dubliner's heads. Other than that, you attention will definitely catch up the giant elegant needle officially called "The Spire of Dublin" alternatively titled as the "Monument Of The Light" made of stainless steel. The needle designed by the architect Ian Ritchie is 121,2 meters (397,6 ft) tall and proudly stands here from the January 2003.
DUBLIN CASTLE AND ITS GARDENS
At the strategical point, in the historical heart of the city the Dublin castle is located, which is the symbol of English domination, built at the beginning of the 13th century. It was the seat of English monarchs in Ireland for almost 700 years, until the declaration of independent liberal Ireland. You can pay for guided tour, but if you do not want to, you can take a walk around courtyard and castle gardens, where the library can be found.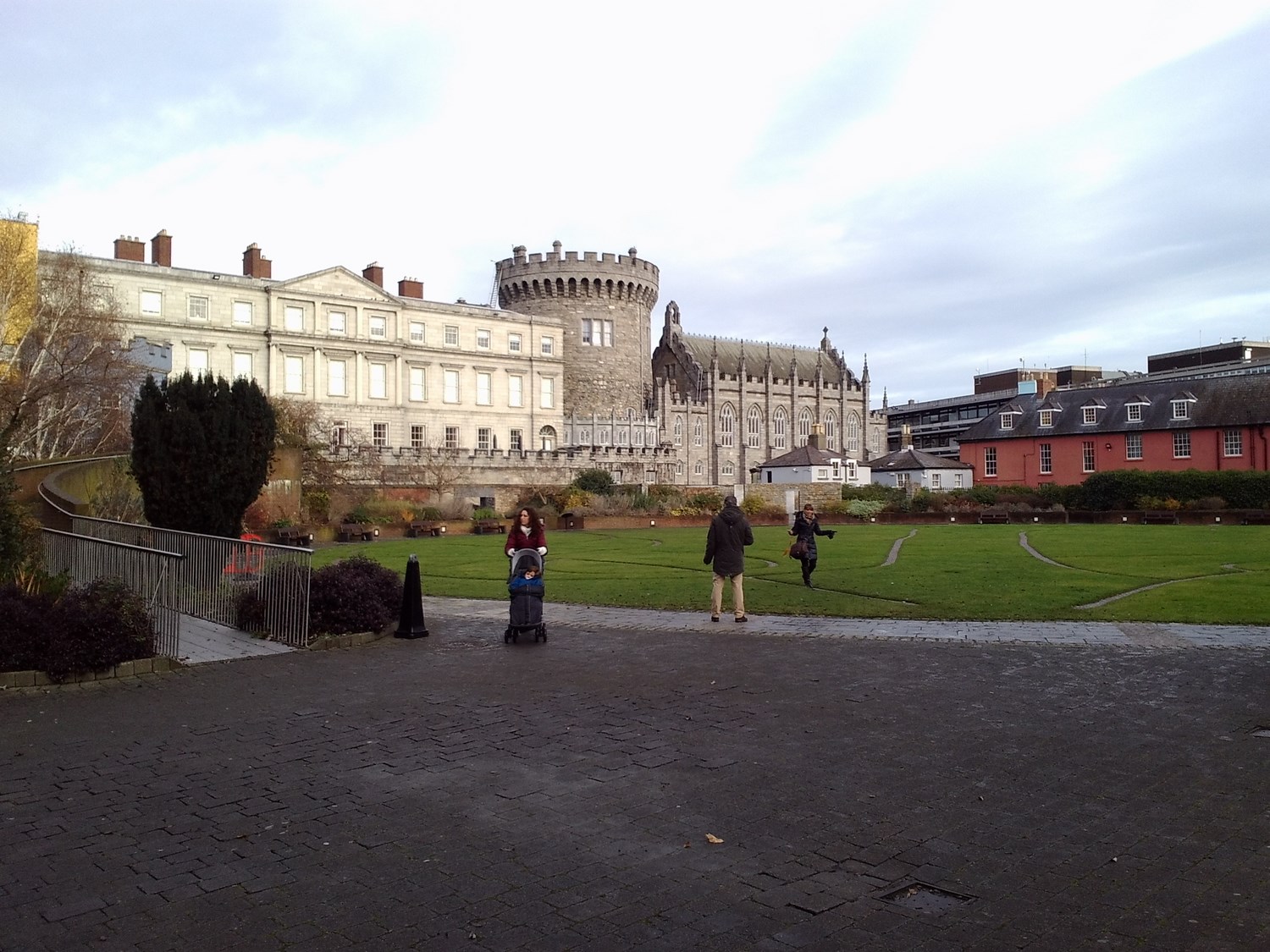 the gardens behind the Dublin Castle
DUBLIN CITY HALL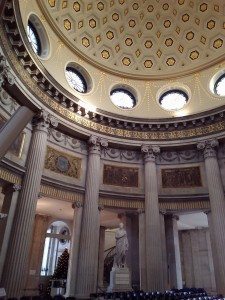 The visit of Dublin city hall is pretty fast, it won't take more than 30 minutes. The City hall was build between 1769 and 1779 and it is the example of Georgian architecture, for which is Dublin world-renowned.
TEMPLE BAR
Temple bar is the great dot at the end of your day trip. If you find Temple bar expensive, no problem. There are dozes another pubs, where you can have a drink or traditional Irish coffee. I really enjoyed Temple bar because it was the only place, to have sold us Irish coffee before 12 pm (and I thought Irish drink all day long, haha). The other thing is, that there is traditional live Irish music played anytime you come in. I remember bearded guy – he could've been around 45, singing, playing guitar and sipping  his GUINNESS beer on breaks. This place has its spirit – the spirit of Ireland, but I must say, it's probably the most touristy place in Dublin (you will see it on the prices, lol)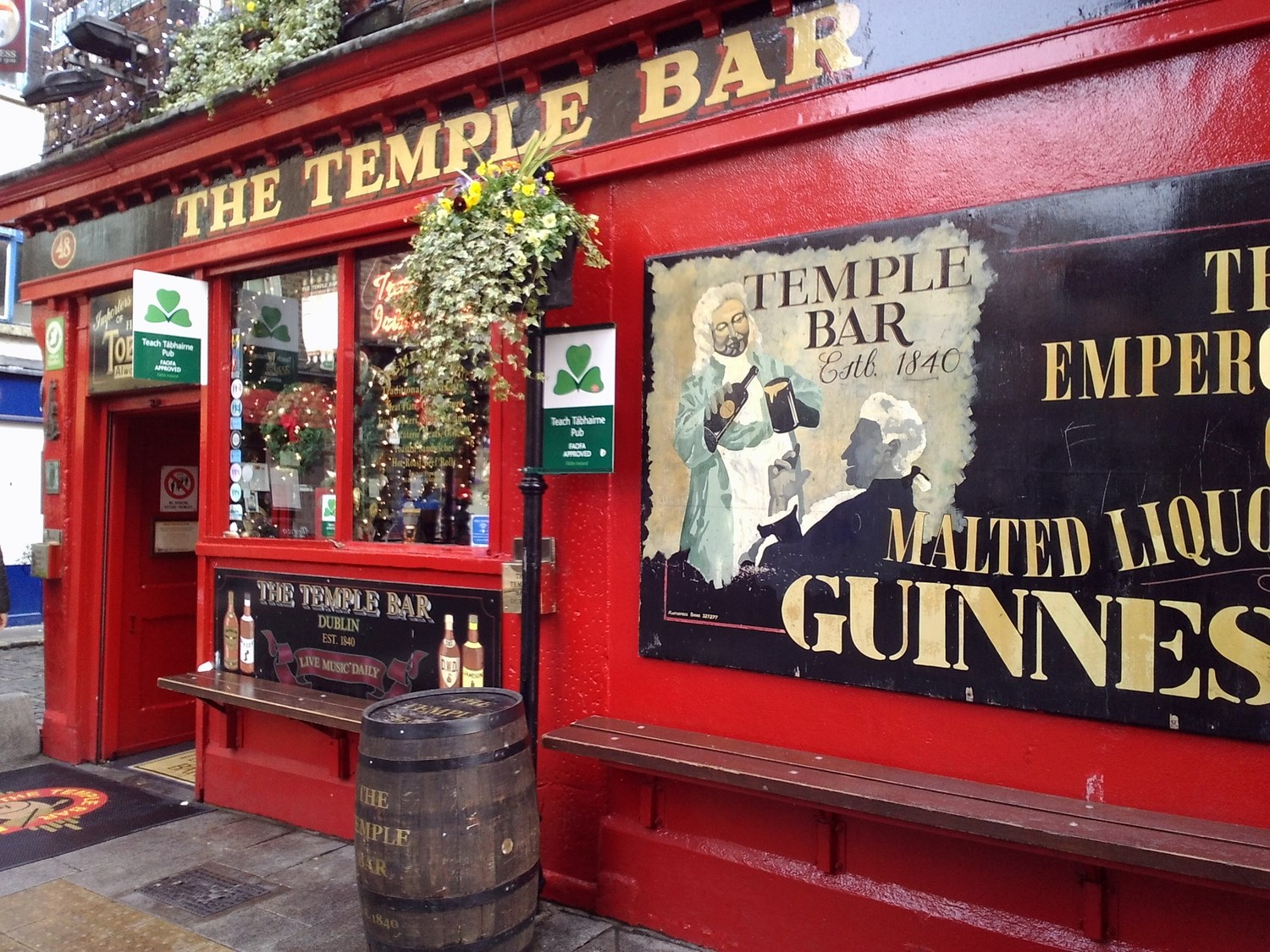 WHERE TO SEE TRADITIONAL IRISH DANCE FOR FREE?
If you are interested in traditional Irish dance, there are many places around the town, where you can enjoy the show. Although, there is a favorite place in town, where you can just come and see the show, while drinking traditional Guinness beer. Our roommate from hostel, who has been living in Dublin for a while told us about the place and our day in Dublin couldn't have ended up better. Head to the Lord Edward Street and at the corner of Exchange Street Upper and Lord Edward Street, there is Arlington hotel, which has its own bar. Just go inside, find a seat, order the beer and wait for the show. I strongly recommend you to come around 8 pm, since the show starts at 9 pm and the whole bar is desperately full.
WHAT ELSE TO SEE?
If you have more time on your own in Dublin, visit also the Old Jameson Distillery or Poolbeg lighthouse – the walk to the lighthouse is great experience, especially when the sun sets.
Dublin deserves more than just one day, but if your schedule is busy you can still make the most of it just in one day.
Milan Bardun – because it is better to travel than to arrive
---
TIP: Po 9 rokoch blogovania vydávam debutovú knihu INFLUENCER, ktorá však nie je návodom ako cestovať lacno, no osobným pohľadom na zákulisie "dokonalého" života jedného influencera, Milana Bez Mapy.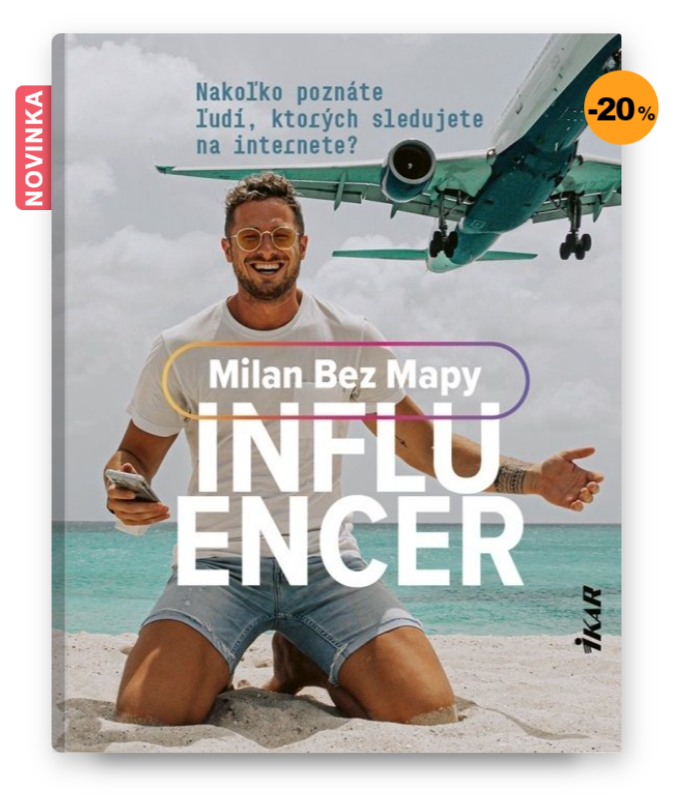 Je to otvorená spoveď bez filtra o tom, kto stojí za značkou Milan Bez Mapy, jedného z najčítanejších cestovateľských blogov na Slovensku. Prečítajte si ju a sledujte ma na Instagrame @milan_bezmapy.
---