To take a ride on the Cable Car in San Francisco is at the top of everyone's list of 'what to do' in this city. Annually, more than 7 million visitors enjoy this spectacular view, but do they know, that the main reason for building this cable railway system were maladroit horses?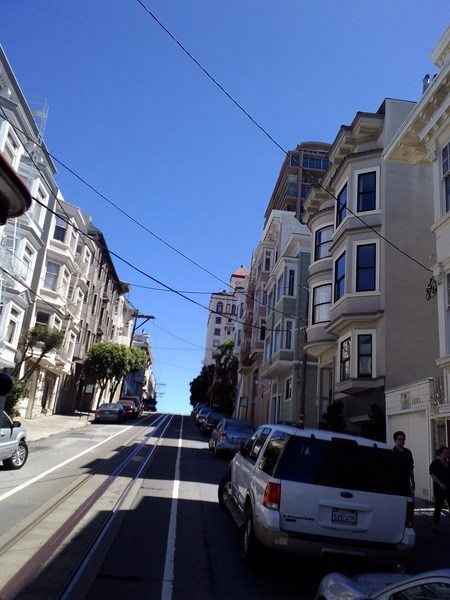 During my stay in San Francisco, the gold city, I couldn't miss to take the ride on this world's famous cable car. Me and my friend, we've  boarded the car in the Maritime national park, right across the Aquatic beach. You don't have to be lucky to see, how they turn the car to go back, just wait couple of minutes. When the car comes, the rail lead them to special turn around point, where the worker manually turns all cars to the direction back to the city. It is pretty interesting to look at him turning heavy machines. Tickets are available upon boarding, or if you have enough time, purchase them at stand, that is at the cross of the Beach St and Hyde St.
FACTS IN NUMBERS:
The Cable Car in San Francisco is the world's last manually operated cable car, operating from August 1873. Nowadays, there are three lines, California Street line with length of 1,4 miles / 2,3 kilometres, Powell-Mason line with length of 1,6 miles / 2,6 kilometres and Powell-Hyde line with length of 2,1 miles / 3,4 kilometres. Top speed of the Cable Car is up to 9,5 mph / 15,3 kmh. Annually, there are 7 000 000 passengers carried by this cable railway system, mostly tourists on they way from downtown to Union Square or along California Street.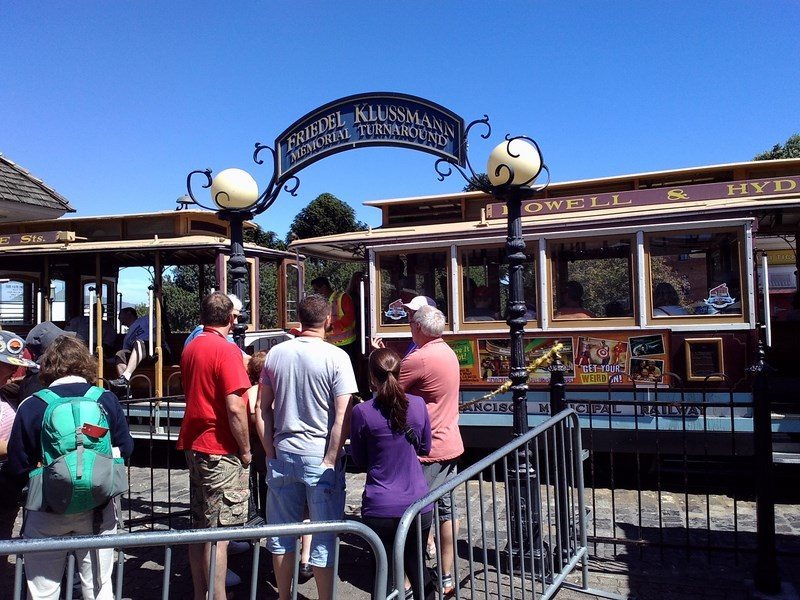 BRIEF HISTORY & THE REASON FOR BUILDING IT:
There were 23 lines established in the past, but till today, only 3 remained. These 23 lines were covering almost the whole area of San Francisco. The main reason for building this system was surprisingly San Francisco's weather. The weather of San Francisco is generally known as cold and humid, because of the influence of Pacific ocean and San Francisco Bay. In the middle ages, when the gas didn't exist, people were using different ways how to transport material, like wood or bricks and mostly, they were using draft horses. San Francisco is hilly town and it was pretty hard for these horses to pull the cars loaded with heavy material up to the hills, therefore many of them have died. But this wasn't the main reason. The main reason was the fog. Regularly, till now, almost every morning, San Francisco is under the heavy, wet fog, that comes from the ocean. This fog makes the surface of roads slippery, as did it in the middle ages, as well. It was happening pretty often, that these draft horses just couldn't pull cars up to the hills, often they slipped, cars rolled backwards and dragged horses with them.
These happenings pushed Andrew Hallidie, Scottish engineer and inventor to design the cable railway system, that was put into the operation on August 1873, at 5 am, when the first Cable car went down the Clay Street.
CABLE CAR TODAY :
The price for one way ride is $ 6 and you can hop on and hop off anywhere you like. Ticked can be purchased from conductor in car. There are also multi passes, daily multi pass costs $ 14, 3 days multi pass costs $ 20 and 7 days multi pass costs $ 26. There are two persons, who run one cable car. The grip men and conductor. Being a grip men is highly skilled profession, since you have to be strong enough to pull grip brakes and have good coordination and balance. There's is an conductor as well, he collects tickets manages boarding and controls rear brakes when descending hills.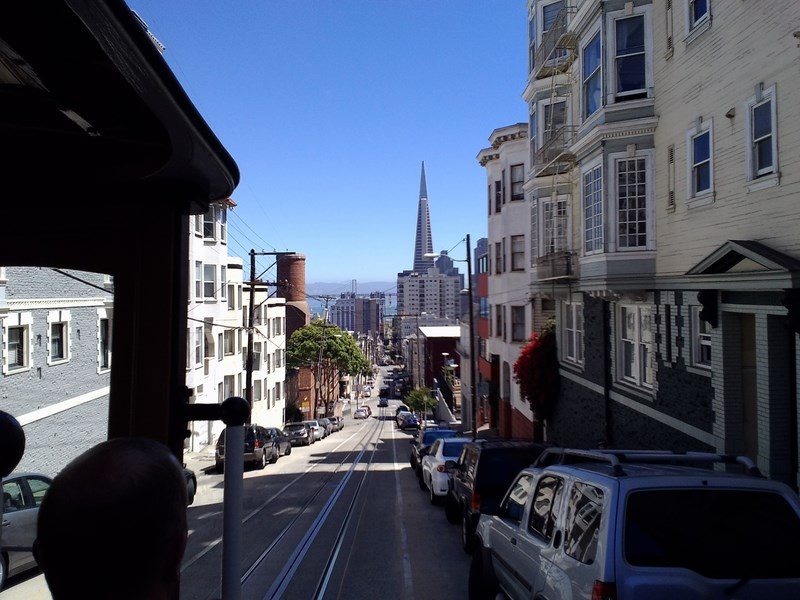 US department of transportation counts the Cable car among the mass public transportation system, and statistically, most accidents happen right here. In the past 10 years, 126 accidents and 156 injuries happened here. The city of San Francisco had already paid almost 8 million dollars as compensation to many legal claims related to accidents happened on cable car.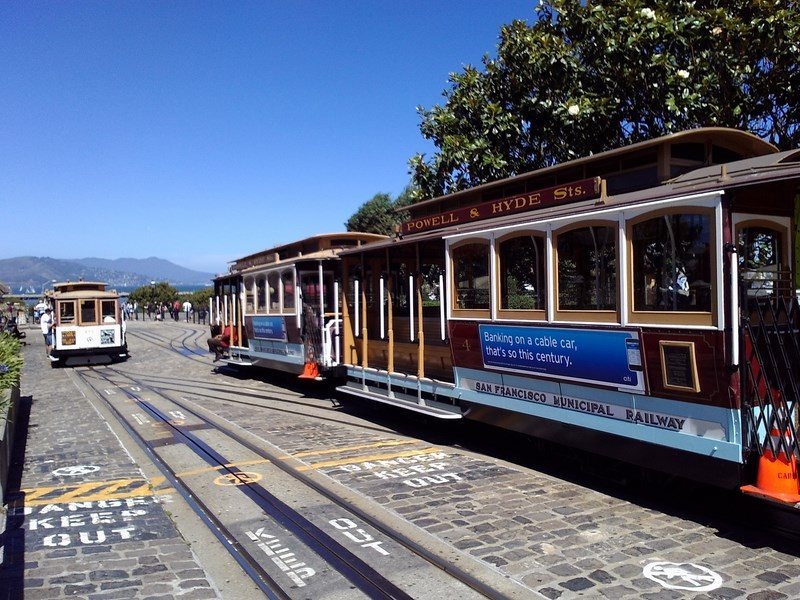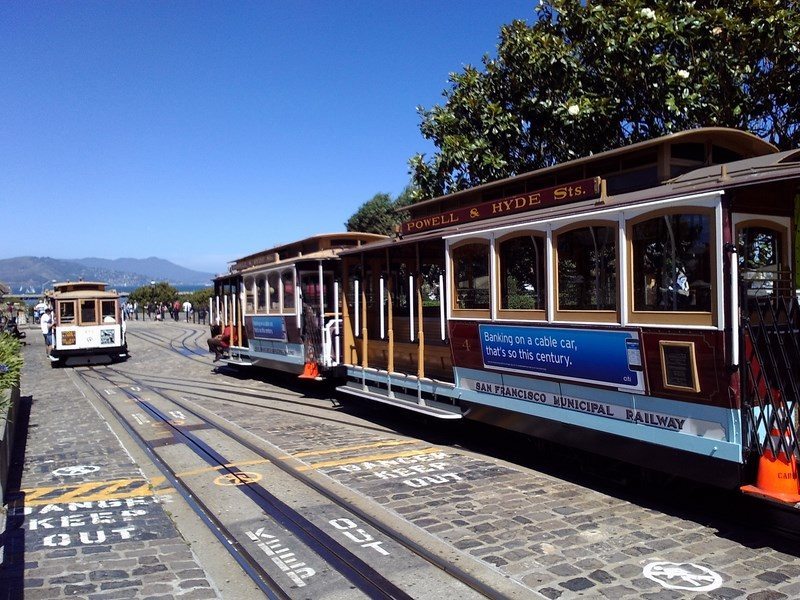 Cable Car ride is really spectacular experience and you just can not miss it, while you are in San Francisco. The most funny part, for me, was when we were descending the hill right under the Trans America Tower. Ticket price is fair, and if you plan to buy some of multi passes that are offered, go ahead and use cable car as main way of transportation in San Francisco.
Milan Bardun 2014 because it is better to travel, than to arrive