---
TIP: Po 9 rokoch blogovania vydávam debutovú knihu INFLUENCER, ktorá však nie je návodom ako cestovať lacno, no osobným pohľadom na zákulisie "dokonalého" života jedného influencera, Milana Bez Mapy.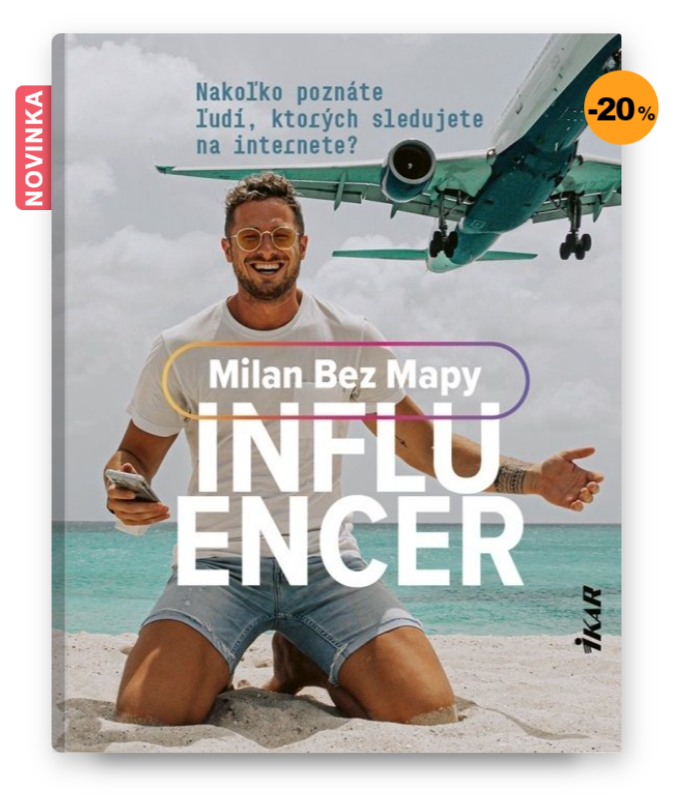 Je to otvorená spoveď bez filtra o tom, kto stojí za značkou Milan Bez Mapy, jedného z najčítanejších cestovateľských blogov na Slovensku. Prečítajte si ju a sledujte ma na Instagrame @milan_bezmapy.
---
Las Vegas means 'glade' in Spanish language and this translation perfectly describe this desert city. It spreads like the glade in the middle of rocks and sand in the desert. How come it has became the world's most popular place for gambling and expensive vacations? Read more.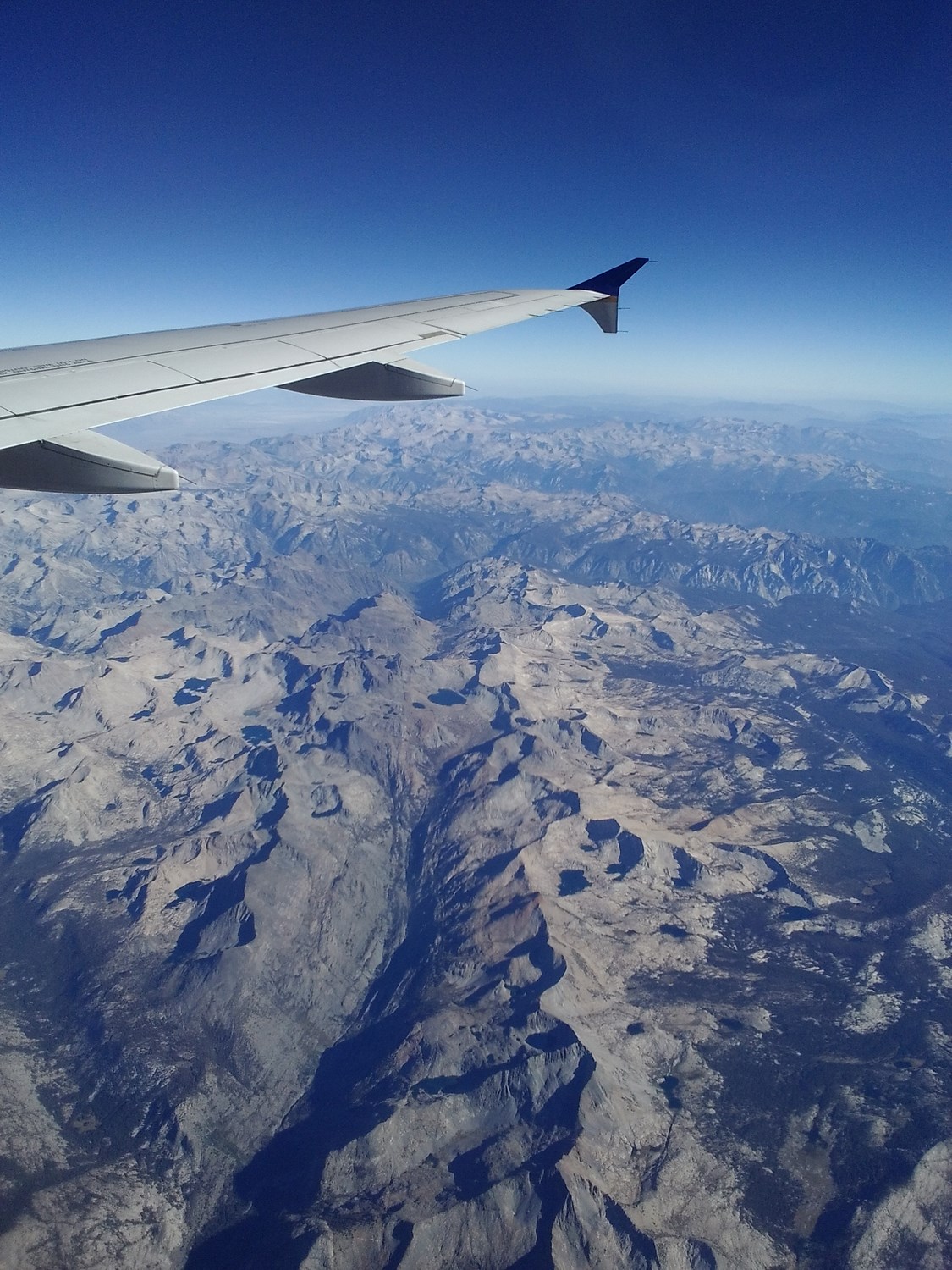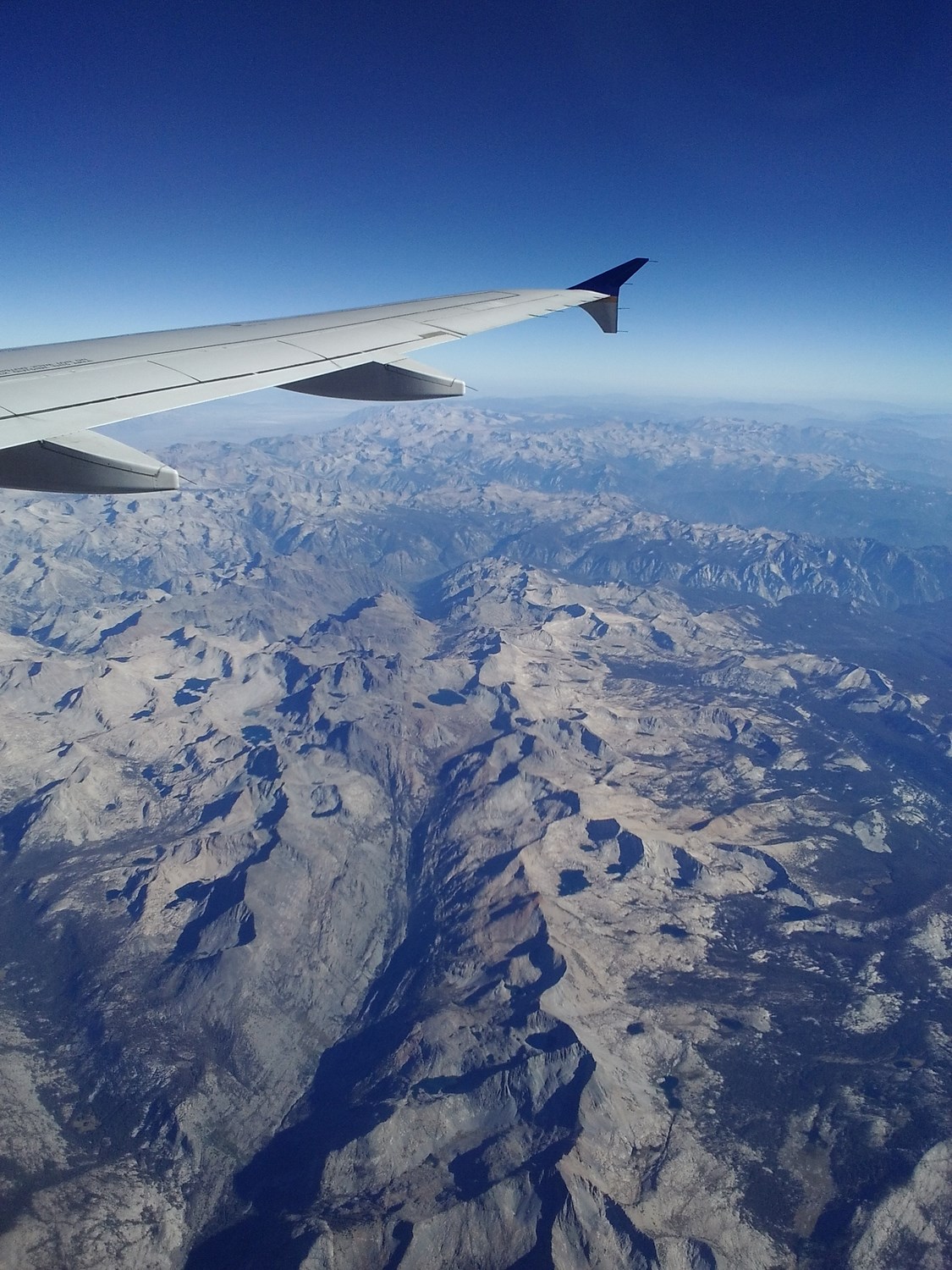 I arrived to Vegas from San Francisco at the beginning of September, the time, when the weather goes nuts and the heat is just unbearable. The difference between the temperature in San Francisco and Las Vegas can be more than 25 degrees, although it's not much far, but there is Sierra Nevada mountains, where the clouds from the ocean are stuck, so it is foggy from one side and cold and hot and dry from another. The flight from San Francisco to Vegas takes not more than one hour and half and you will enjoy beautiful sceneries of Sierra Nevada mountains. As you fly over Nevada, there's not much to see, just deserts and solar panels, especially around cities, since they make energy from sun. Landing in Vegas has surprised me because until I haven't seen the city, I thought we would've landed on the desert. Las Vegas is literally in the middle of nothing, surrounded by hot sand and empty, never ending roads. The temperature in Vegas is hot all year long, but it doesn't mean you can come here anytime. If you are sensible for hot weather, try to avoid this place during summer. Las Vegas is very popular destination for its New Year's eve celebrations on December. On the picture below, we can see the final approach to Las Vegas McCarran International airport and as you can see, the land reminds more like the surface of the moon. In the back, we can see the huge solar panels catching the sun energy for the city.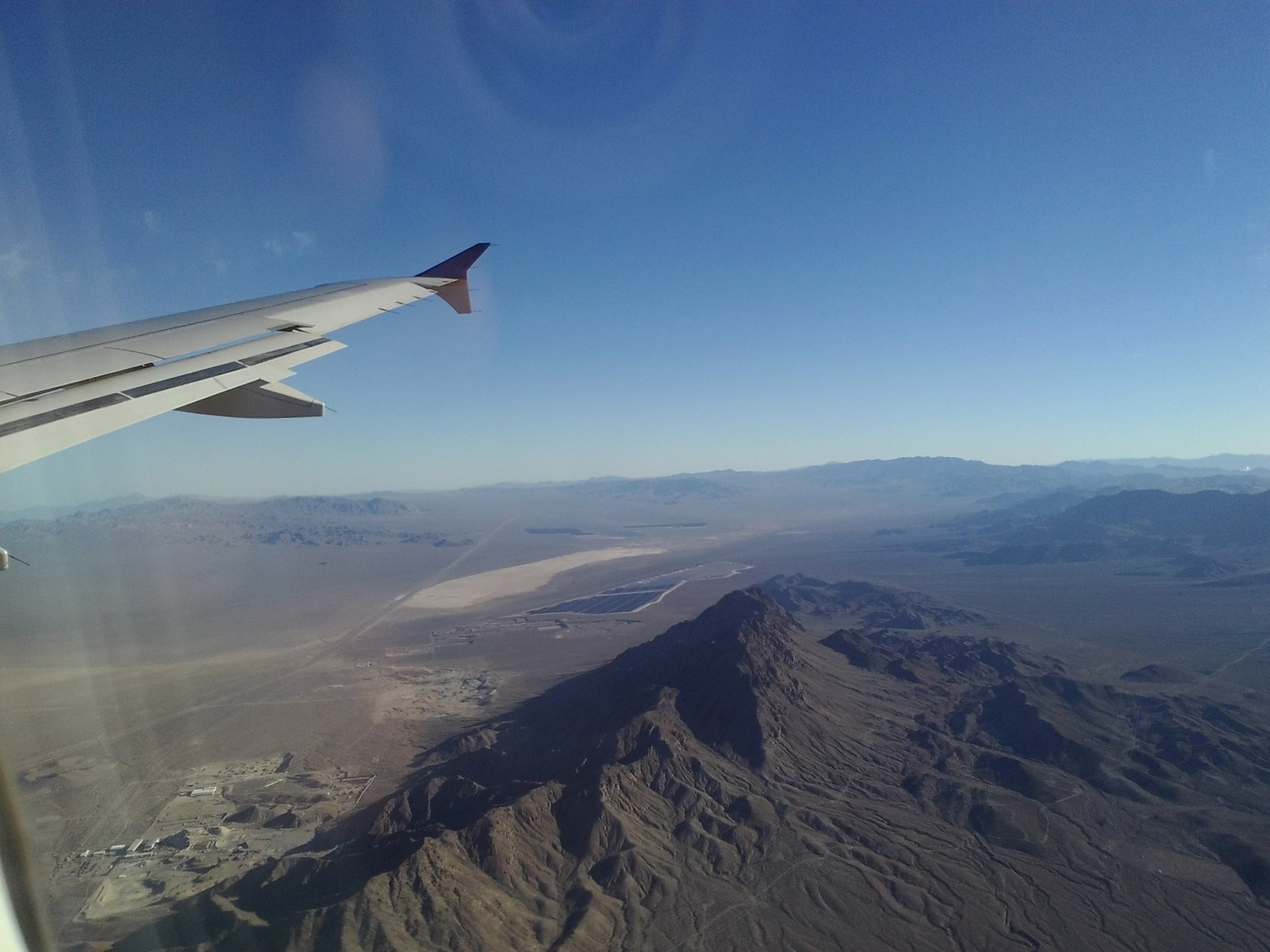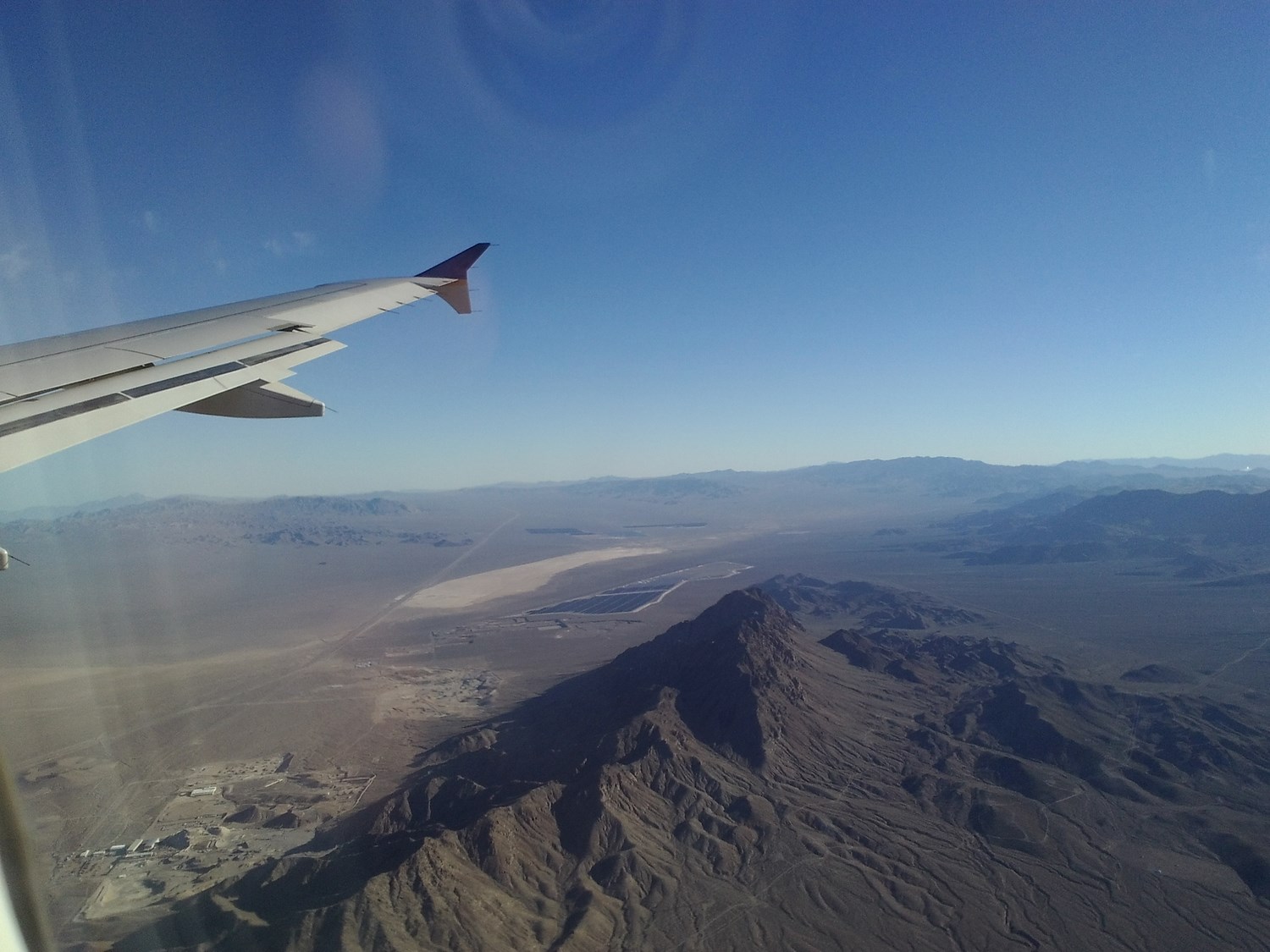 BRIEF HISTORY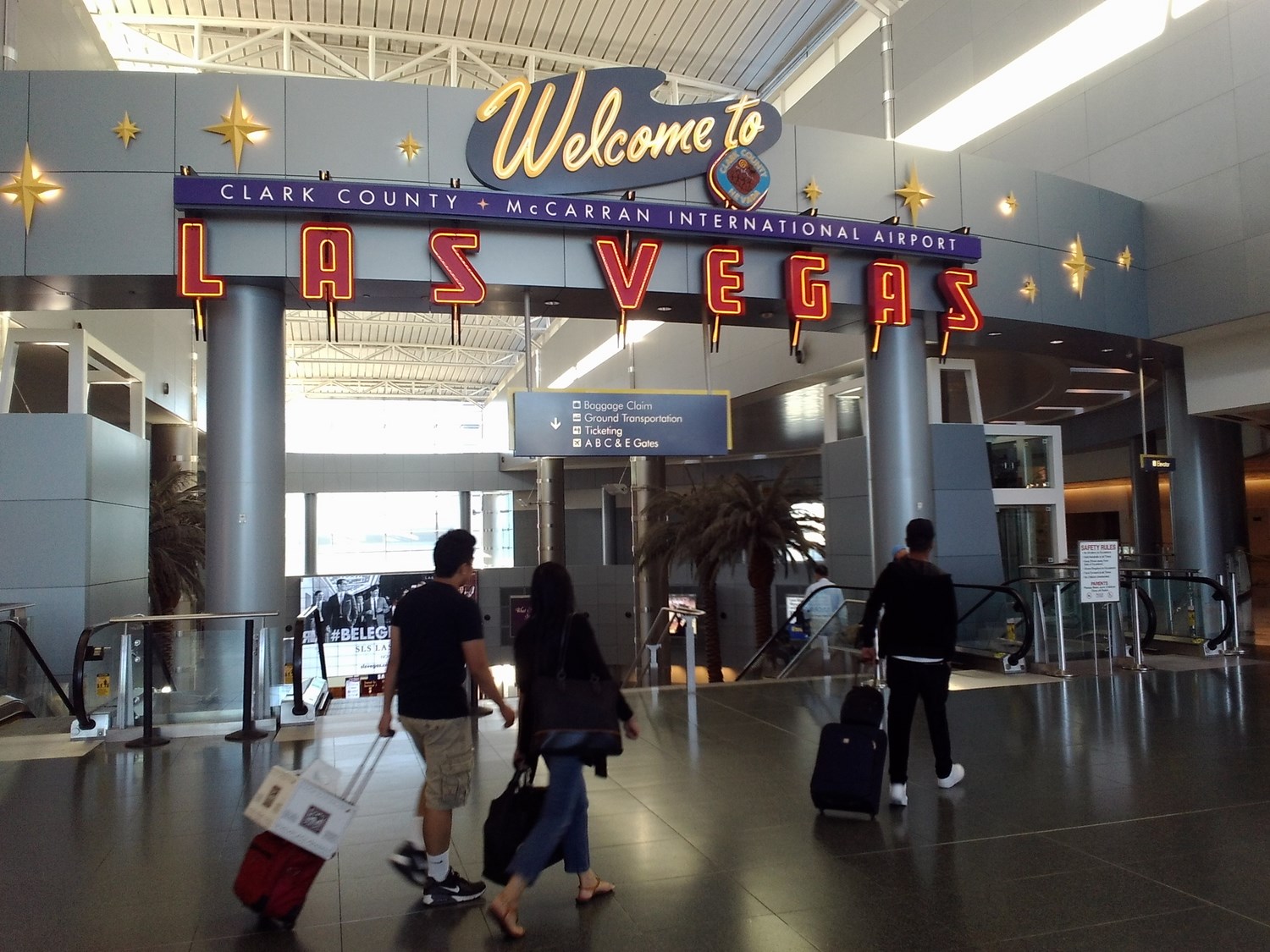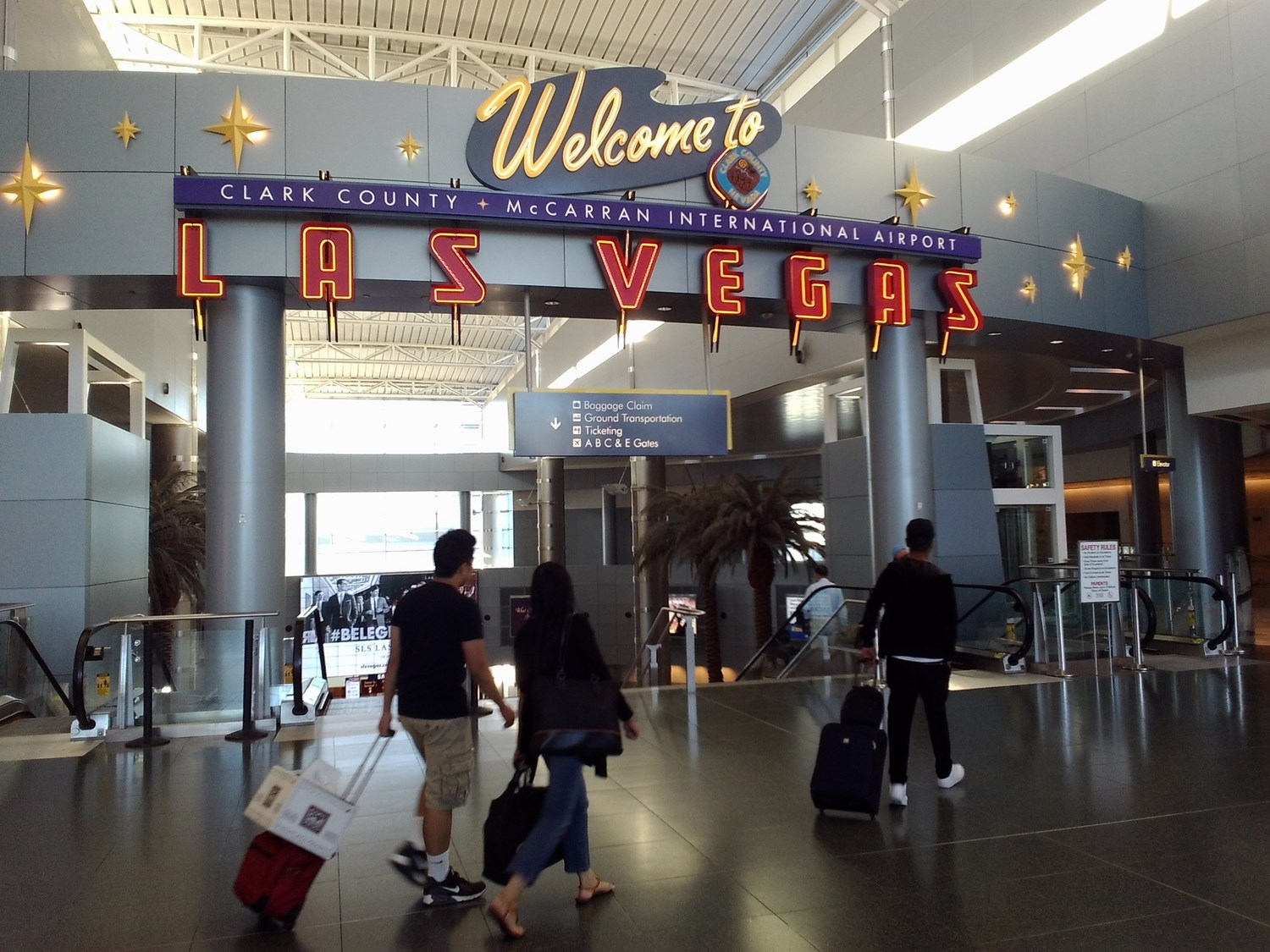 There was no Las Vegas at the beginning of 20th century, but nowadays it is the home for almost two million people. In 1905 Las Vegas has became a train station on the way from Salt Lake city to Los Angeles and the city has been the place, where workers from Hoover Dam used to come and spend their money in the free time, since the work on Hoover Dam was physically tough. Hazard games have been forbidden in the state of Nevada since 1909, as in the first state on the West, but the bad financial situation led to legalize it again to bring money to the state. In the early 40s, there were built first casinos and in 50s, Vegas jumped into the golden era, reinforced with the fact, that American military has tested atom bomb in the desert nearby.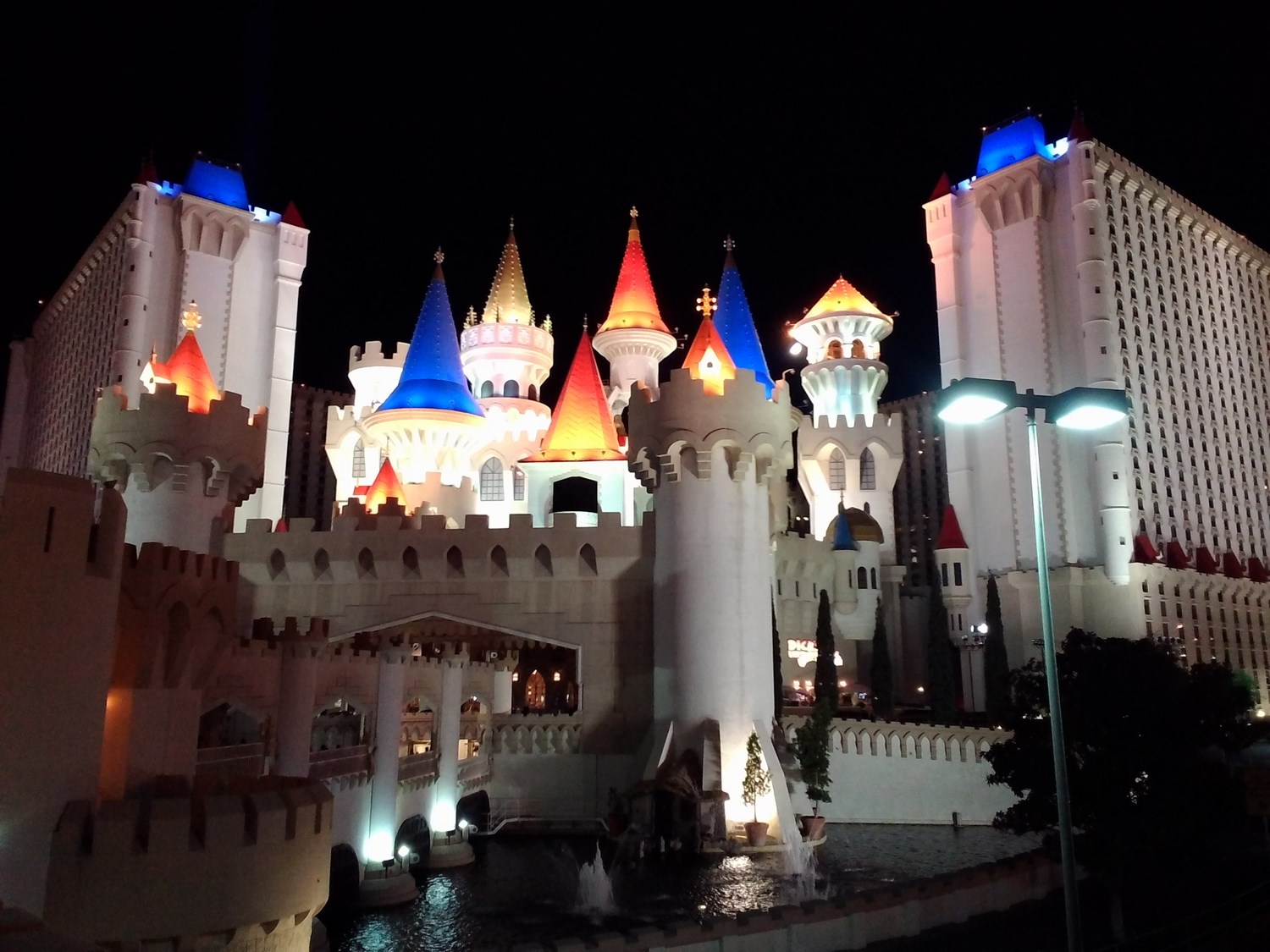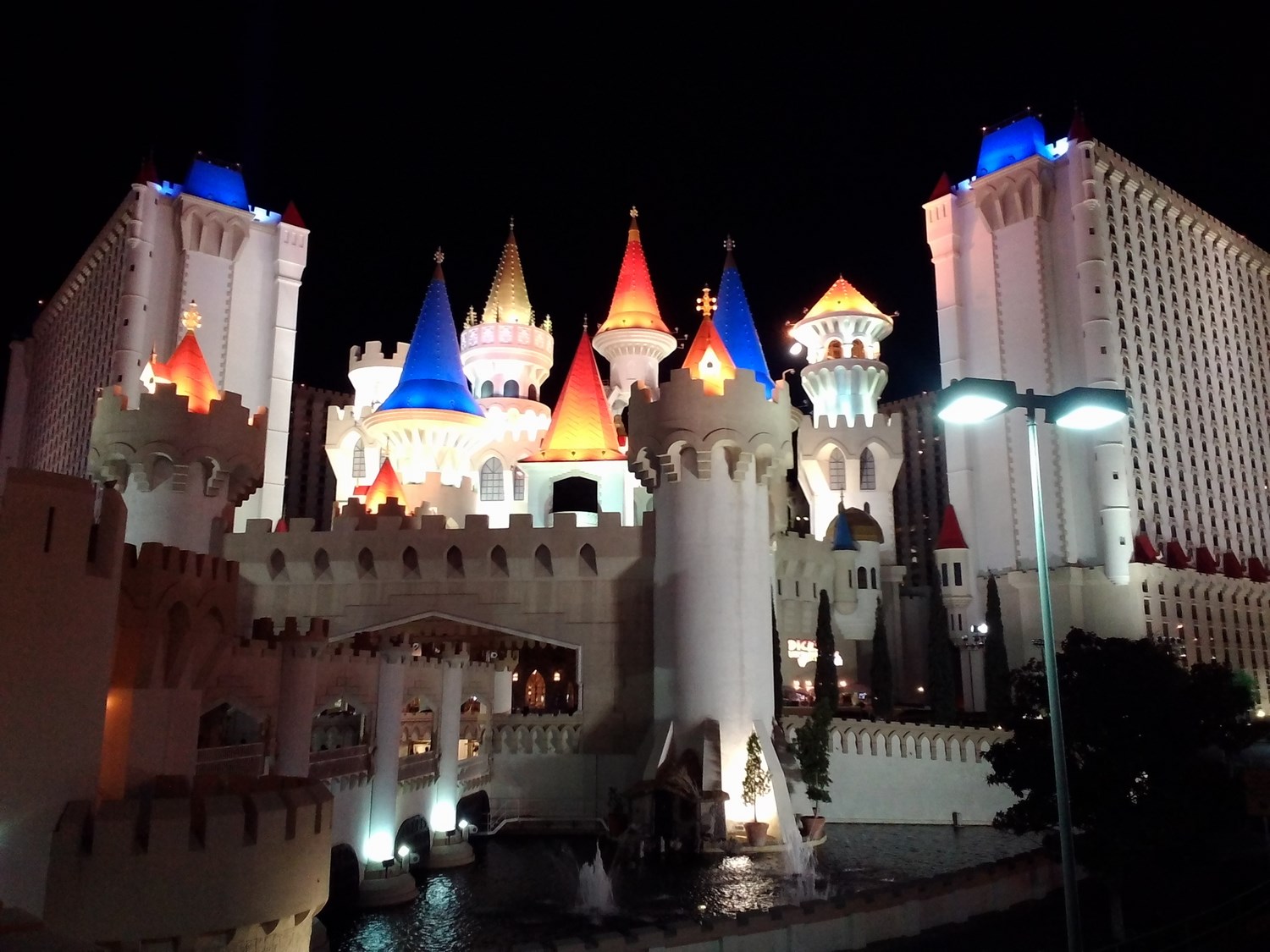 LAS VEGAS TODAY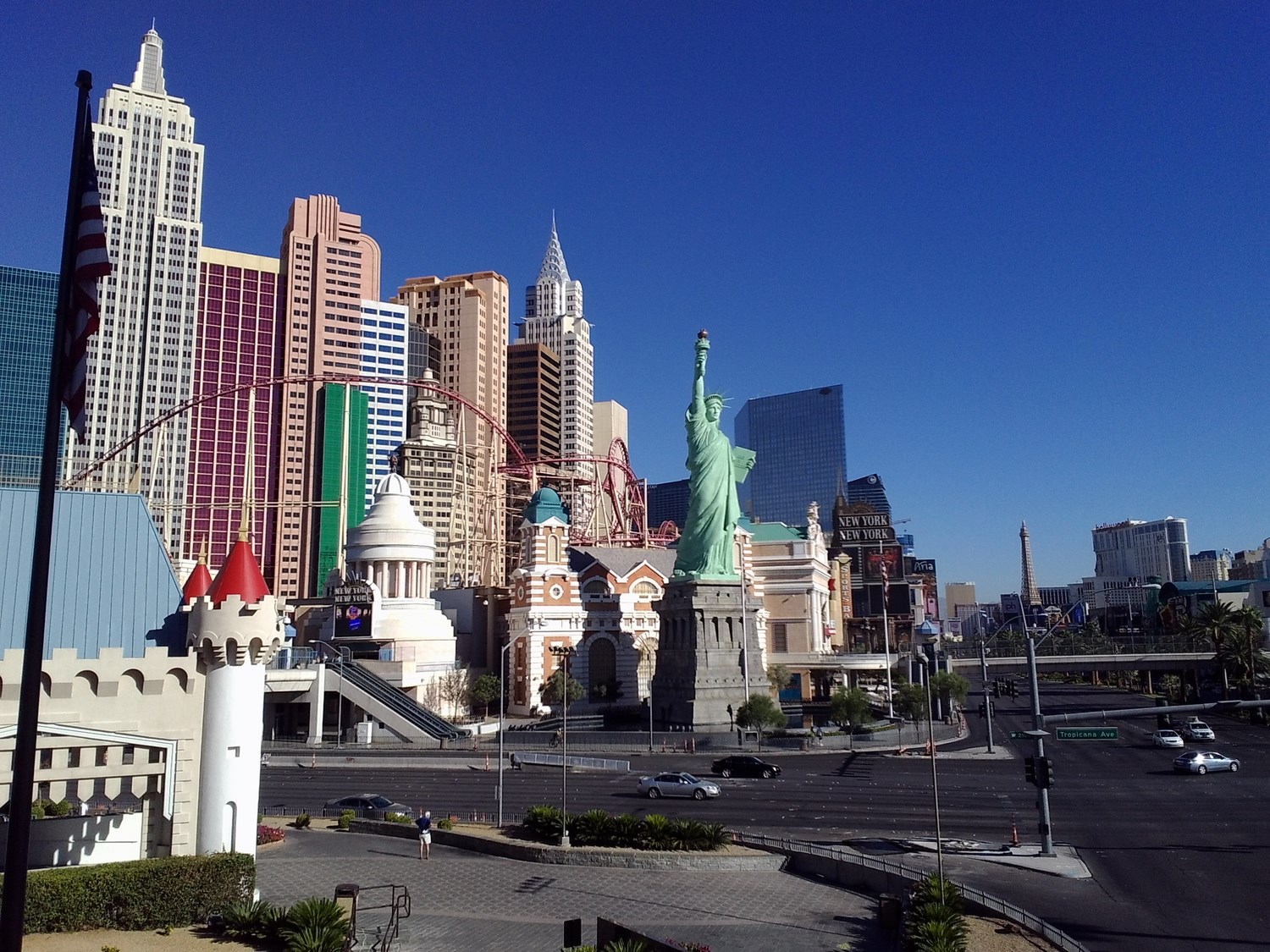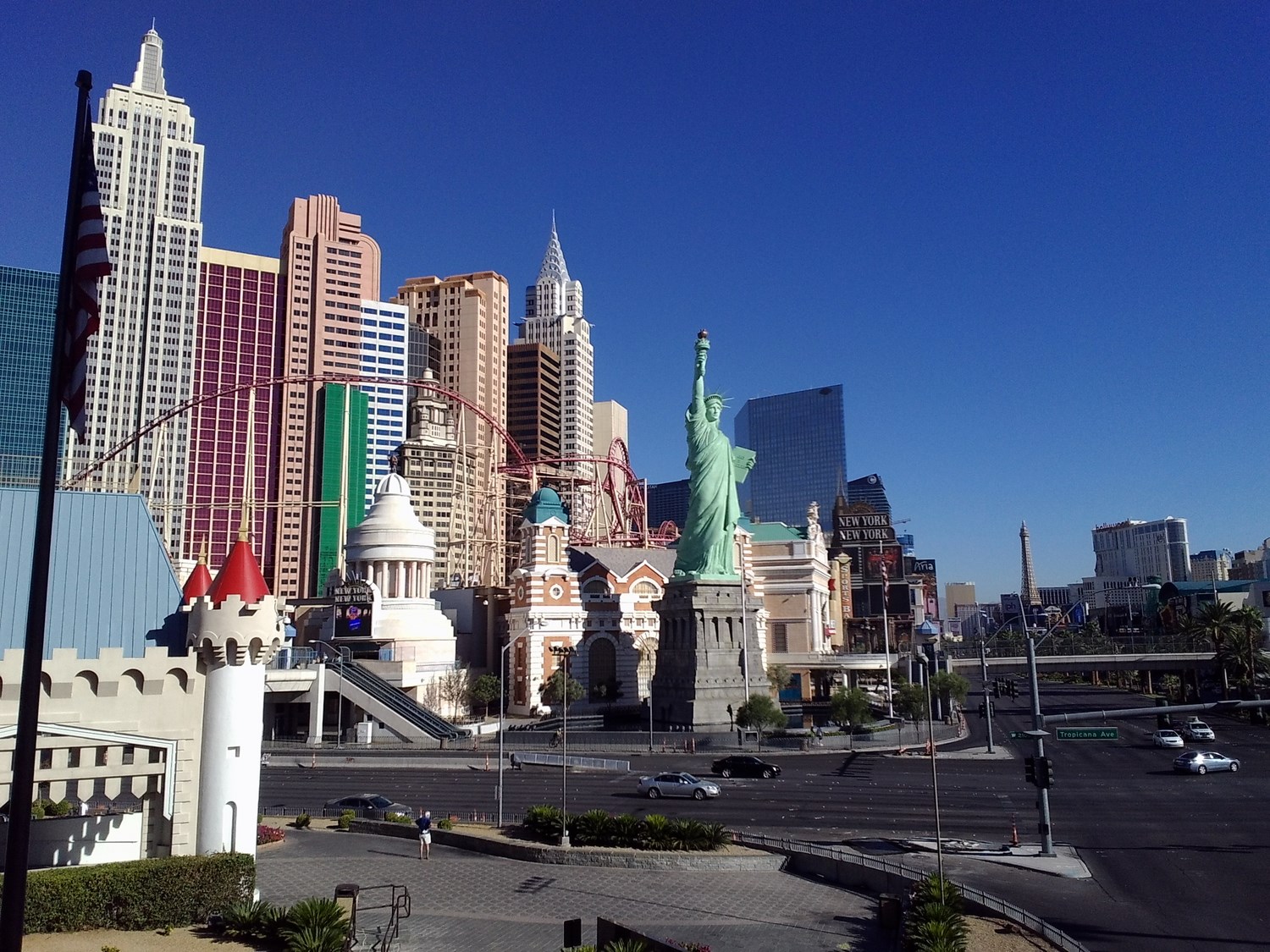 The main street of Las Vegas is called 'the Strip'. The best time to walk around this long street is the nigh, when all lights are flashing and blinking through the dark. Along the street, there are many casinos in hotels and you don't even have to walk on the street if you feel hot. All casinos are connected with escalators and you can literally pass the street through casinos. These casinos are without windows, so you don't have any idea what's going on outside, you can play all night long without being rushed by morning light. Literally. All casinos are full of people and as we were passing by, I watched few of them. There were young people in suits, seniors or young ladies who came to party to Vegas, because the city requires you to party. You will meet many famous people on the Strip, like Britney Spears, Madonna or an alien called Alf, but the leader of them all is Elvis Presley. We met Elvis at least three times in two minutes haha.
EGYPT, NEW YORK, PARIS OR VENICE? NO! IT'S VEGAS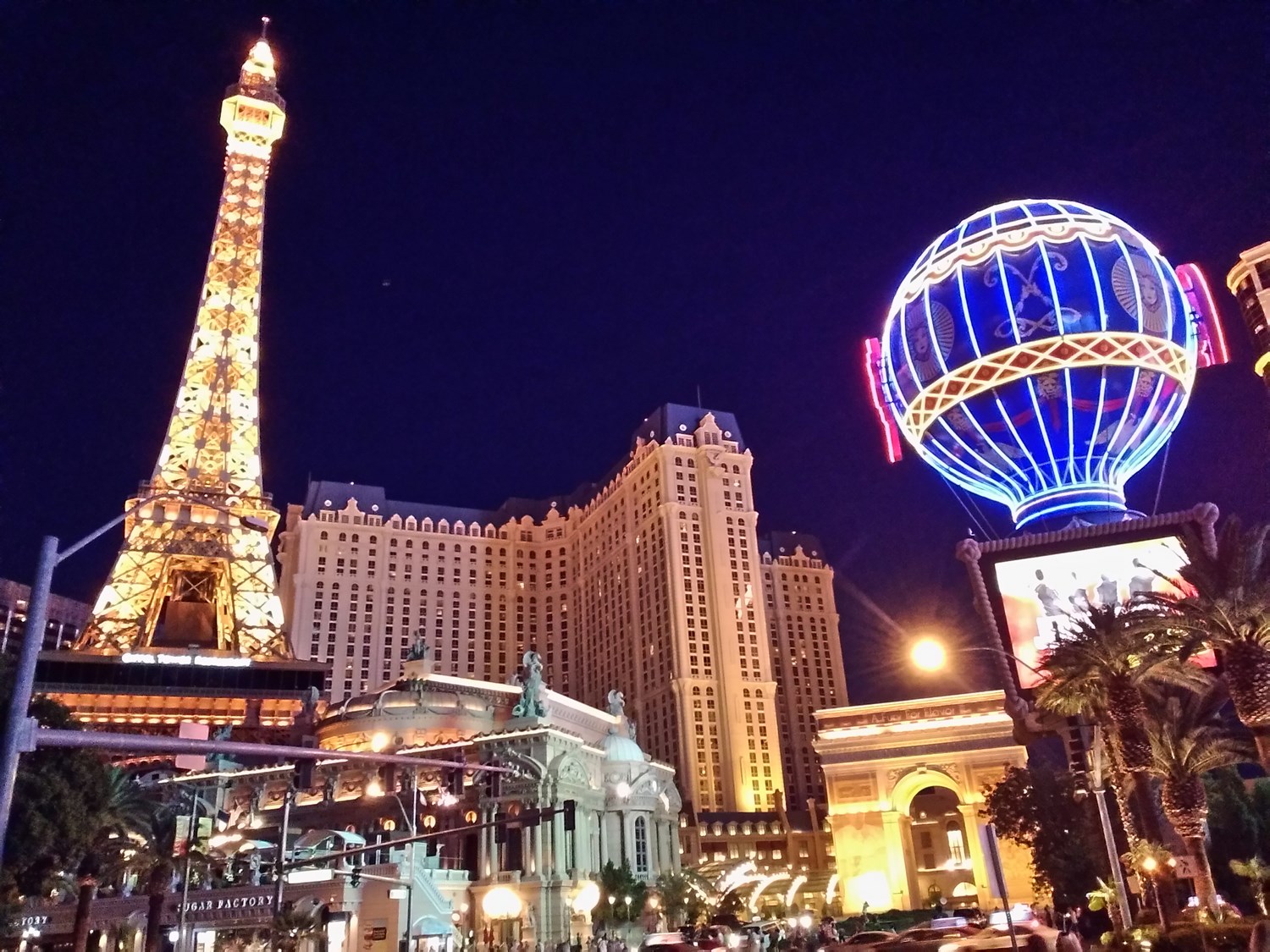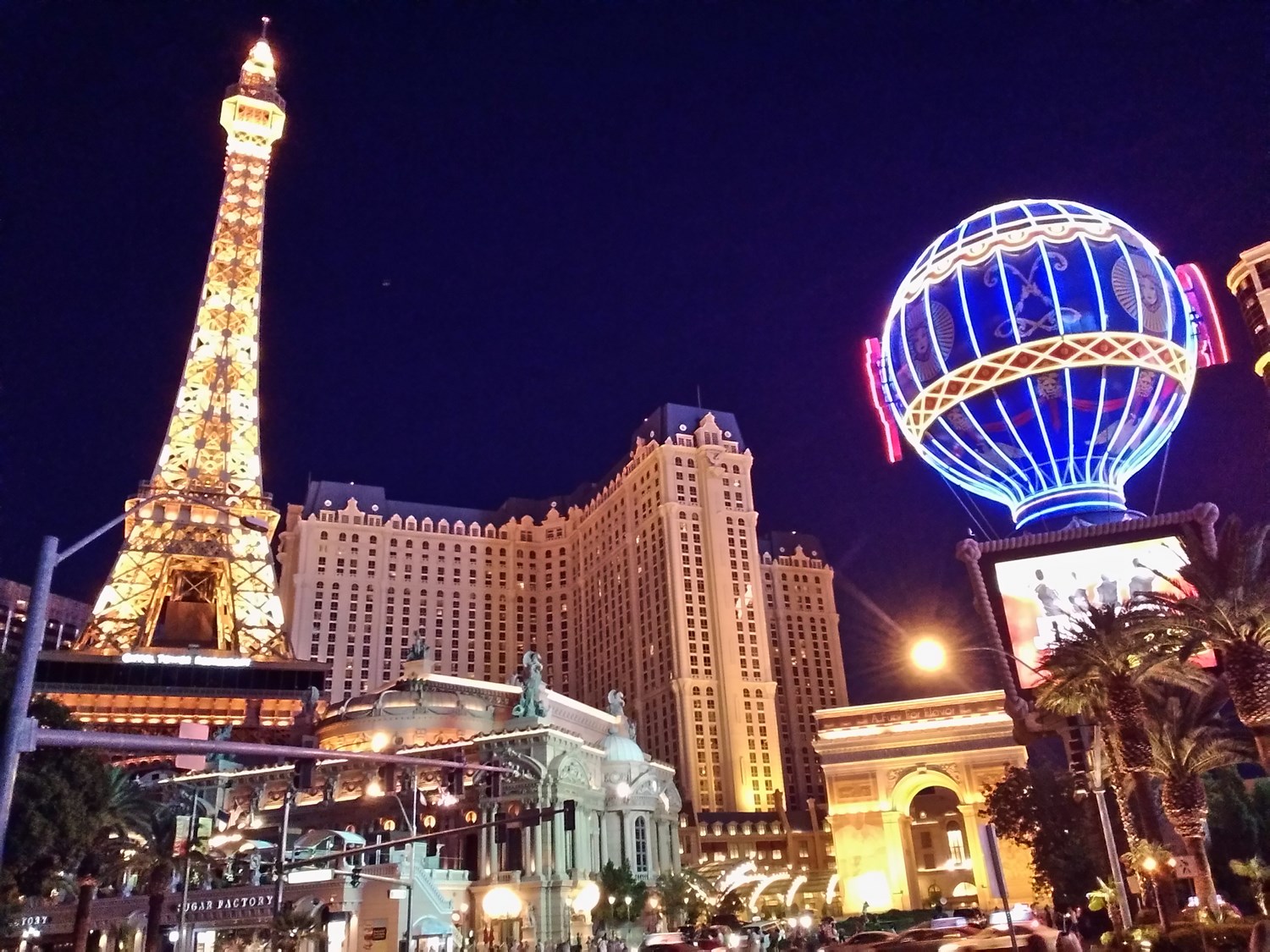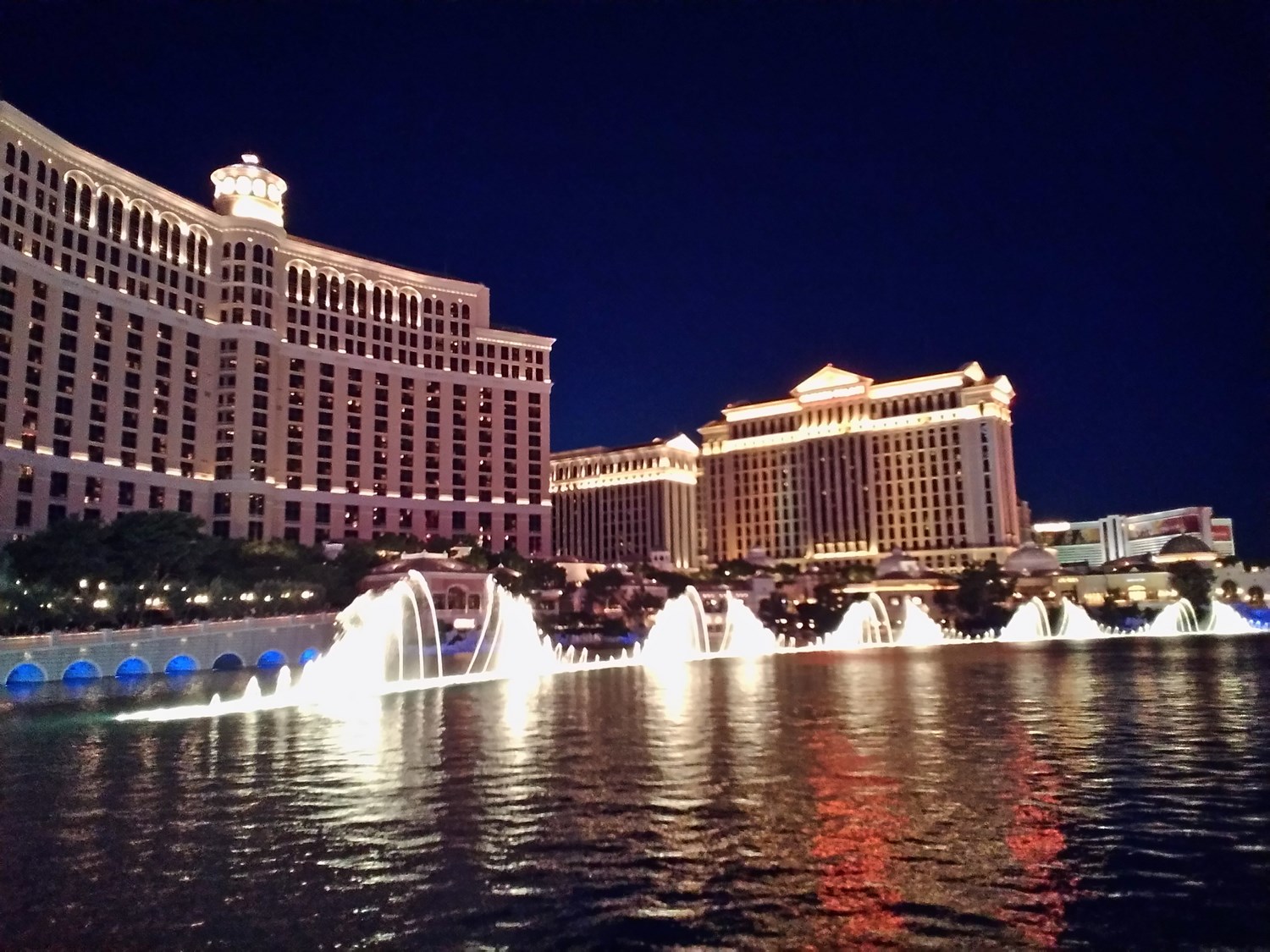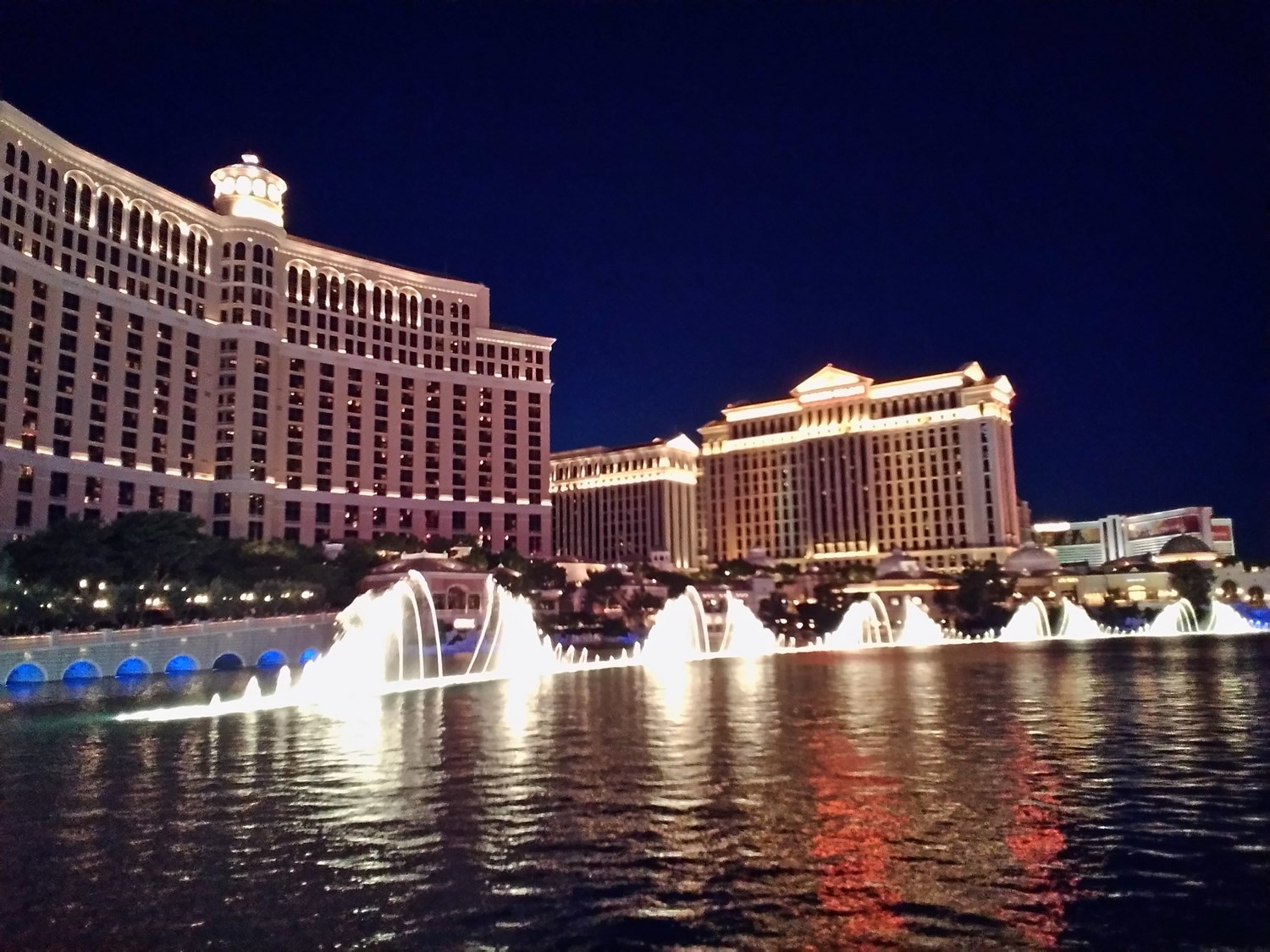 As you walk the street, you will see the whole world and you don't even have to leave this city. Casino New York – New York is the copy of most famous spots in New York, like the Empirestate building, The Statue of Liberty or Brooklyn bridge – it's a little brother of Manhattan. Casino Paris has its own Eiffel tower with the Arch of Triumph and right next to it, there's Caesar palace with the statue of David. As you walk by, you won't miss little Venice with gondolas or awesome fountain right next to the Bellagio hotel. This fountain had reminded me of the fountain in Dubai.
HOTEL LUXOR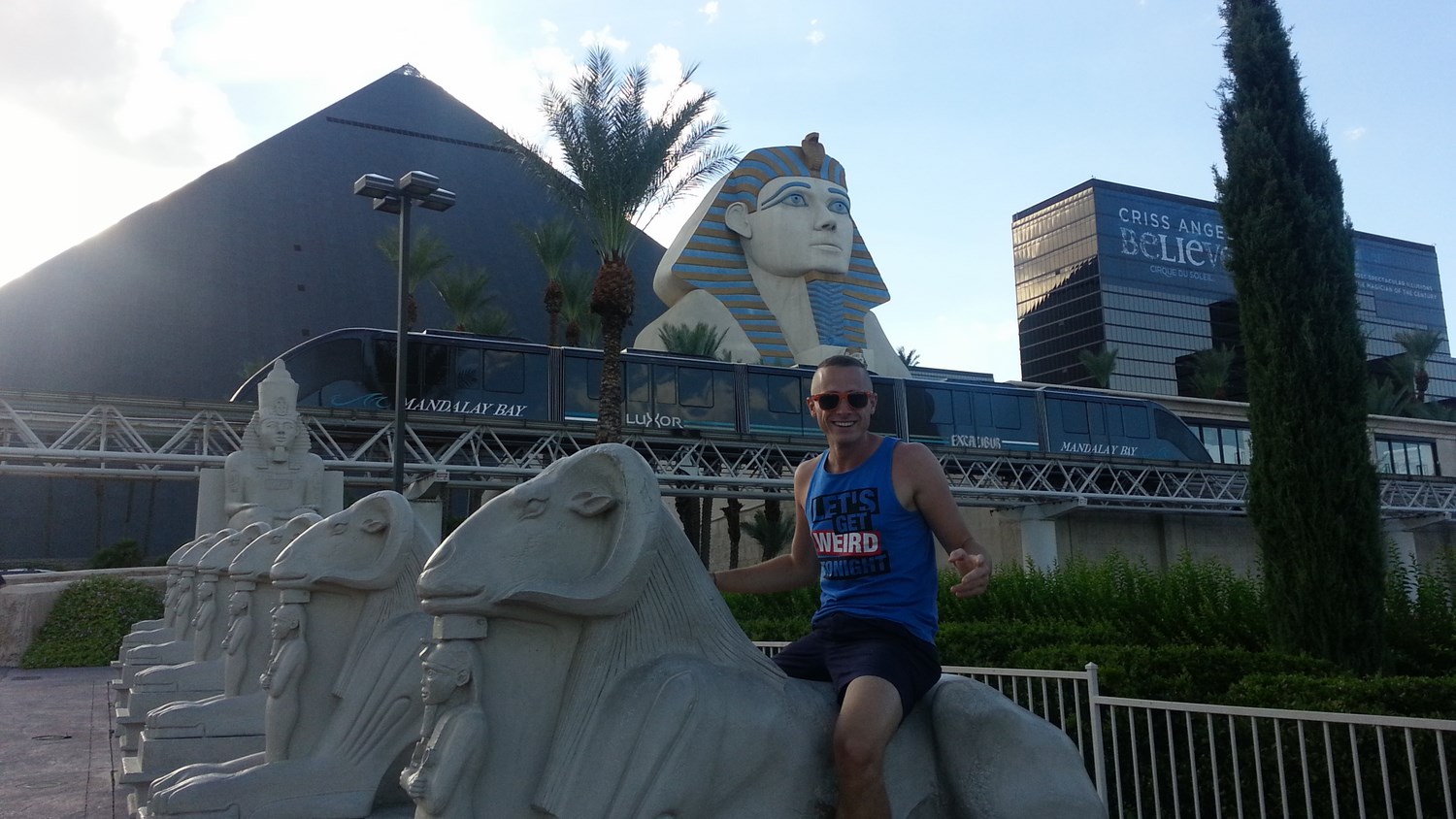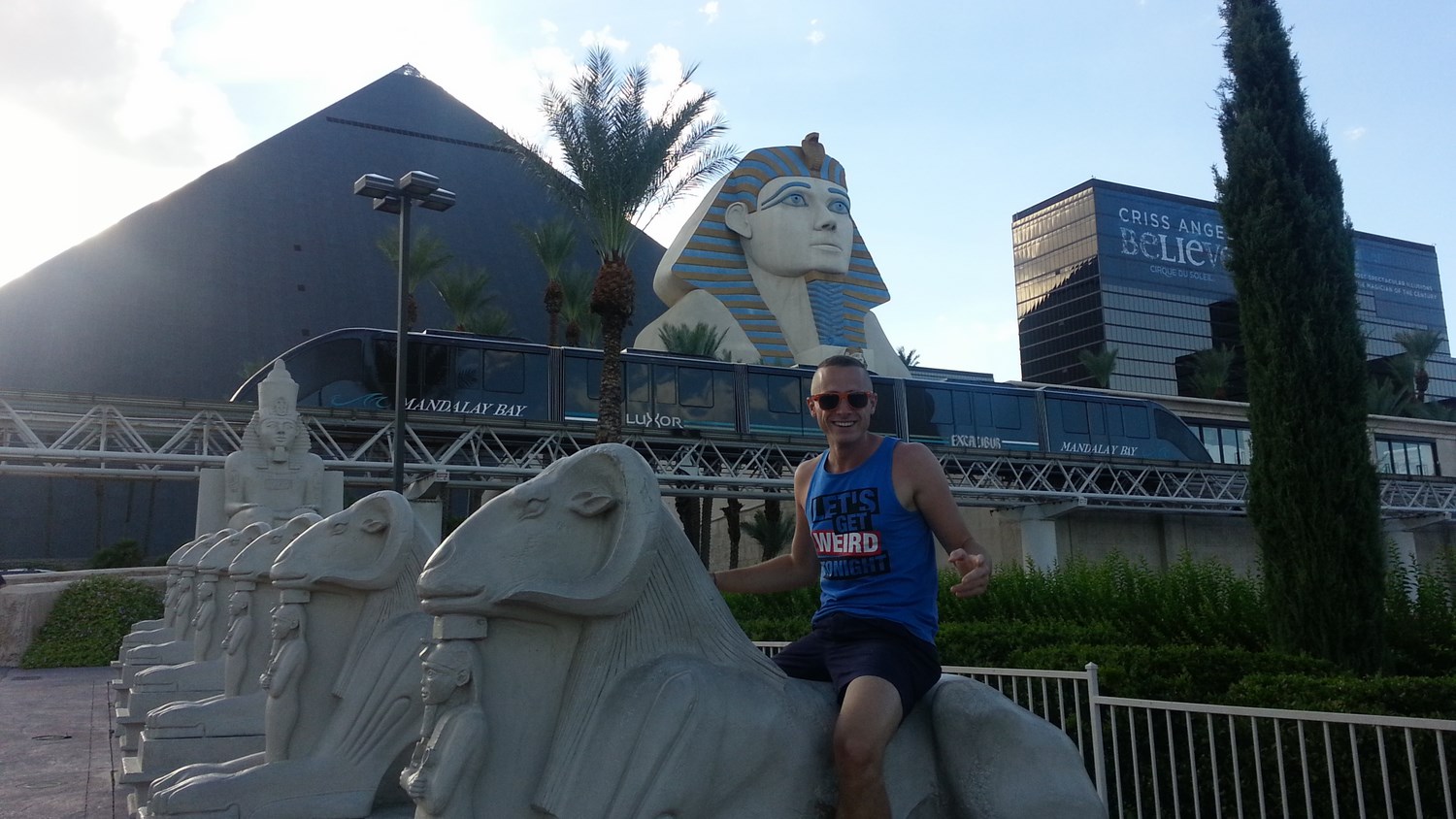 Luxor is one of most significant hotel of Las Vegas. It's shape will remain in your memory for very long time. Why? Because it's black pyramid. It has 36 floors and there are many Egyptian artefacts inside – for example the exact copy of Tutanchamon temple. Outside, next to the hotel, there is a large copy of Sfinga, proudly standing next to the pyramid. Me and my friend, we were accommodated in Luxor, but sadly, I must say I didn't like it. This complex is really huge and we always got lost inside, although the shape of the building is so simple. The hotel room was too dark, because of dimmed windows (the glass is black) and there were no option to open this window. But I won some money in casino right in Luxor, so my stay was not that bad here haha.
YOUR DAY IN LAS VEGAS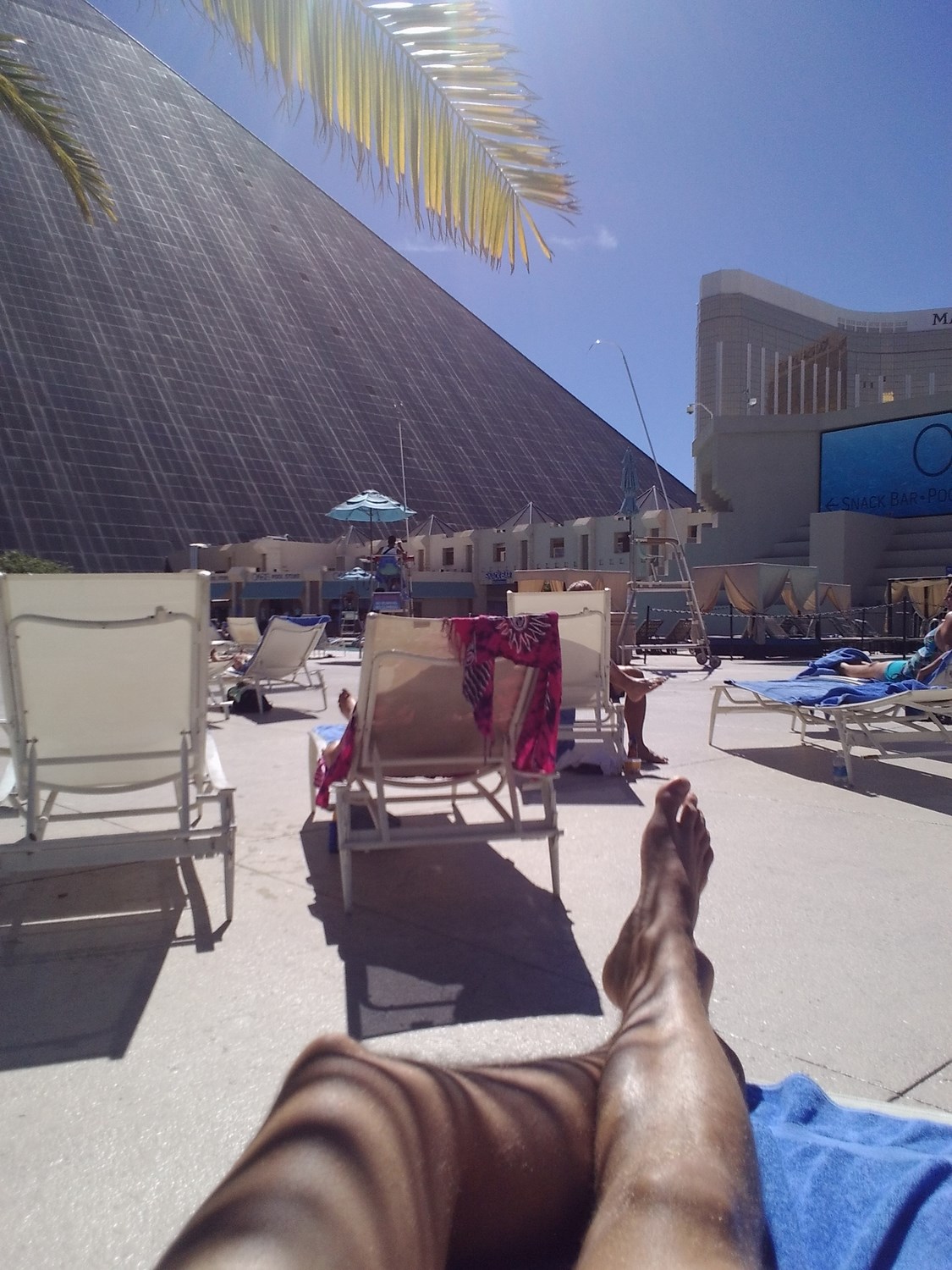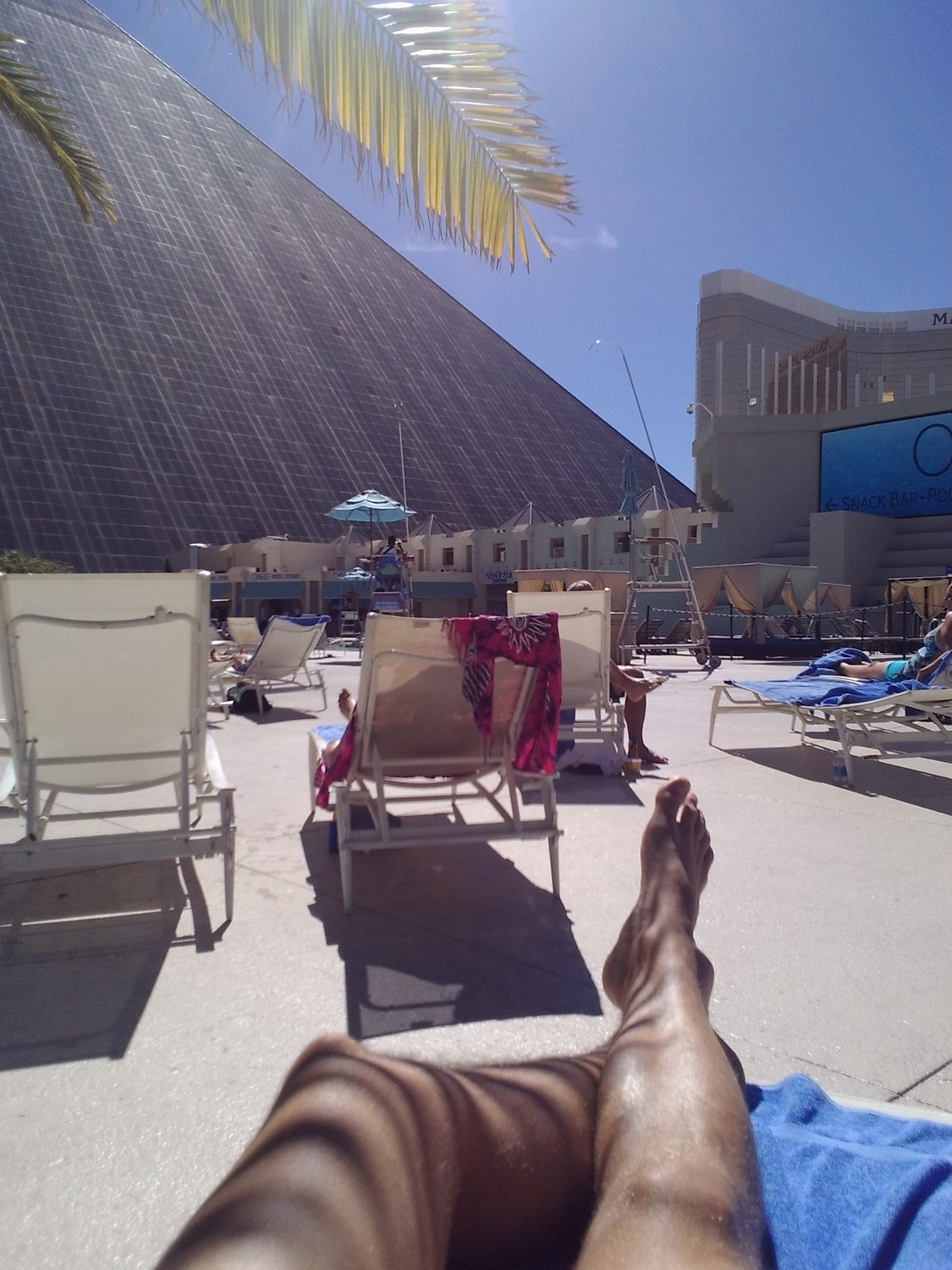 This is small tutorial, how to spend your day in Las Vegas. Since the temperatures can be very high what makes people to feel uncomfortable, I suggest you to spend the day by the pool or casino. Every hotel has its casino and pool, where you can spend the whole day with gambling or chilling in the water under the palm trees, while drinking your favorite Mojito. We have tried to walk the city on the day, but it's like walking to the hell and you might be the only one in the city. Yes, the city is empty and super hot, crispy. The only people you meet are Mexicans, who sell cold bottled water for 1 dollar, what is pretty expensive, comparing to the stores. When the night comes out, dress up and hit the city. Vegas is perfect place for party and you won't recognize that empty city you have walked on the day. There's music, there are people, there is fun. Pubs are full, streets are crowded with fancy cars and if your wallet is full as well, you're king of this place.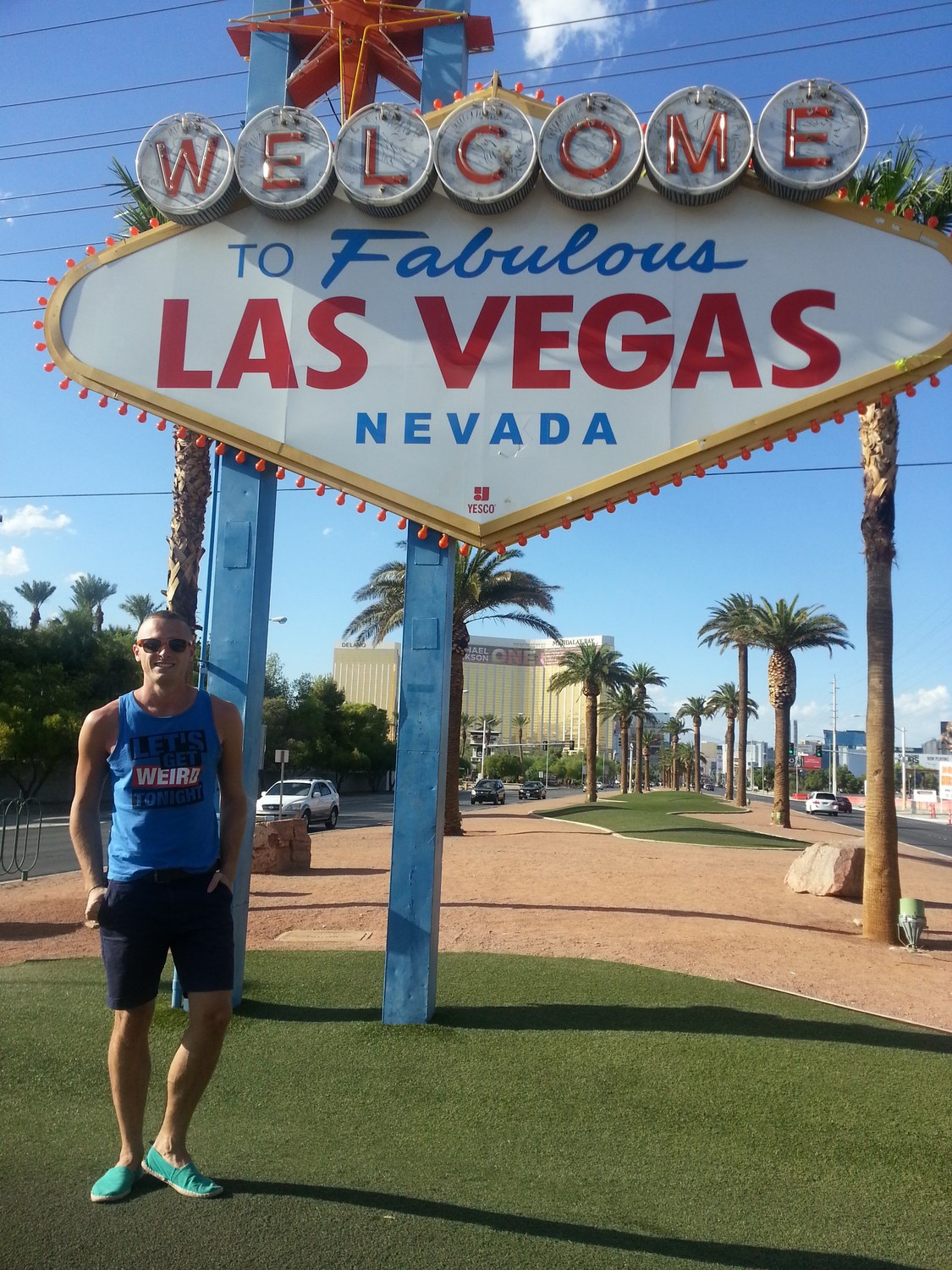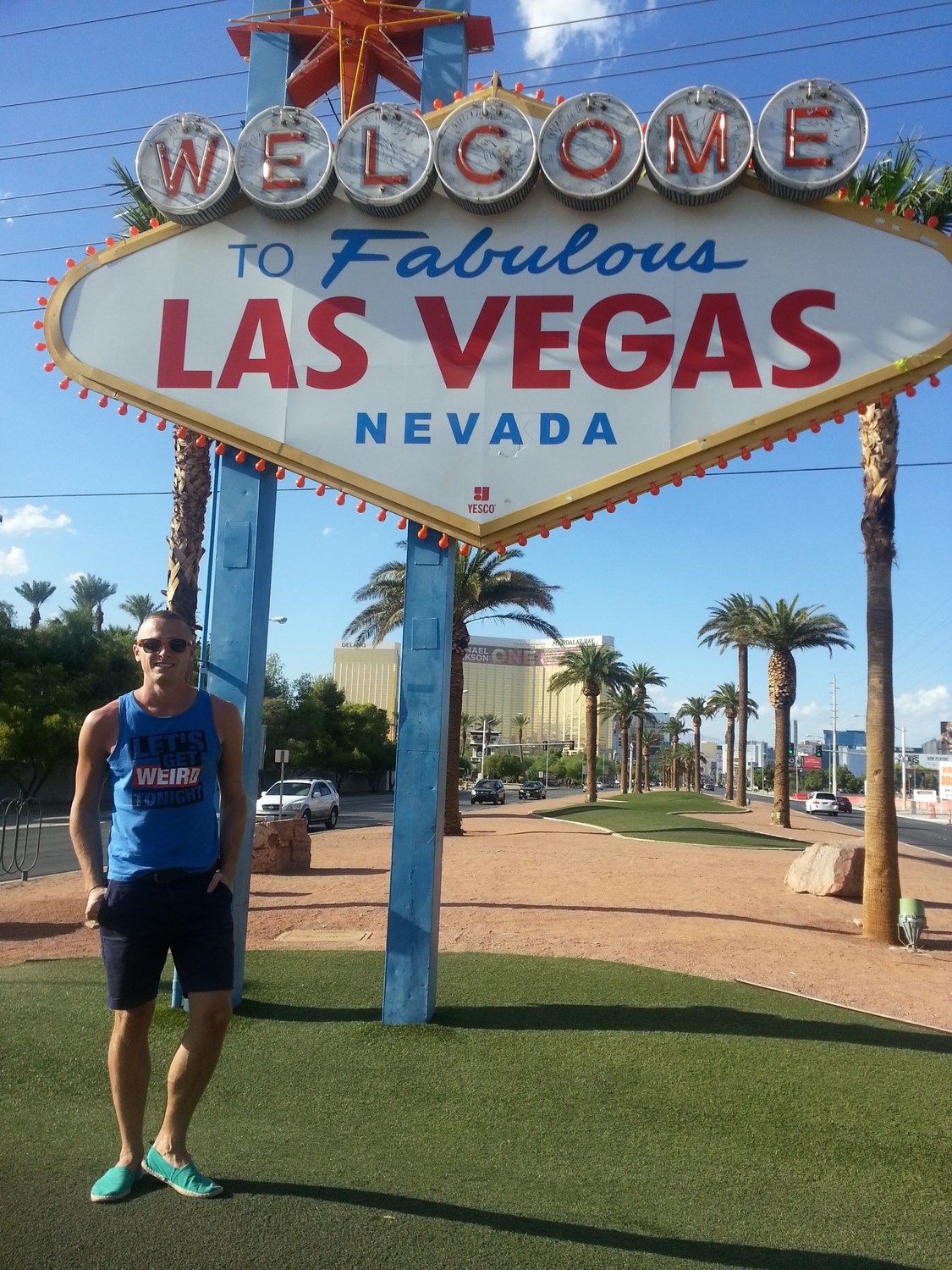 There are plenty helicopters over the city and I called them 'flies' because they're hanging in the air one next to another, as small black dots on the sky. These helicopters belong to companies, who offer helicopters tours over the city for couple of minutes. These tours aren't expensive and if you want to see Vegas from the skies, go ahead. Another popular atraction is Las Vegas Sign, which is pretty far from the city center. You have to walk the strip towards to the South, unless you find it, but you might be surprised. It stands in the middle of the Strip and there's no way how to get there, except to run through the frequent road. We have survived and made this pic. Of course, one Elvis Presley and bottlet water was waiting there, as well. If you can not find this sign, just google "las vegas sign" and Google finds it – its highlighted on the map, as well.
PUBLIC TRANSPORTATION 
Public transport in this town is very weak and do not count with going by bus anywhere. There are few lines from the airport and down the strip, but people here do not use public transport, because they have cars. The airport is almost in the city center and everyone takes taxi. If you want, you can literally walk to the airport from the Strip.
Las Vegas is special place. I was leaving it with hangover as hell and the flight to Los Angeles was the worst ever. I have almost vomited on the lady next to me on plane, fortunately I haven't. If you want to escape the real life for a couple of days, hit Las Vegas and act inappropriately, here's everything allowed. Las Vegas is exactly the same way as it's shown on TV – wild and fancy.
Milan Bardun – it is better to travel than to arrive
---
TIP: Po 9 rokoch blogovania vydávam debutovú knihu INFLUENCER, ktorá však nie je návodom ako cestovať lacno, no osobným pohľadom na zákulisie "dokonalého" života jedného influencera, Milana Bez Mapy.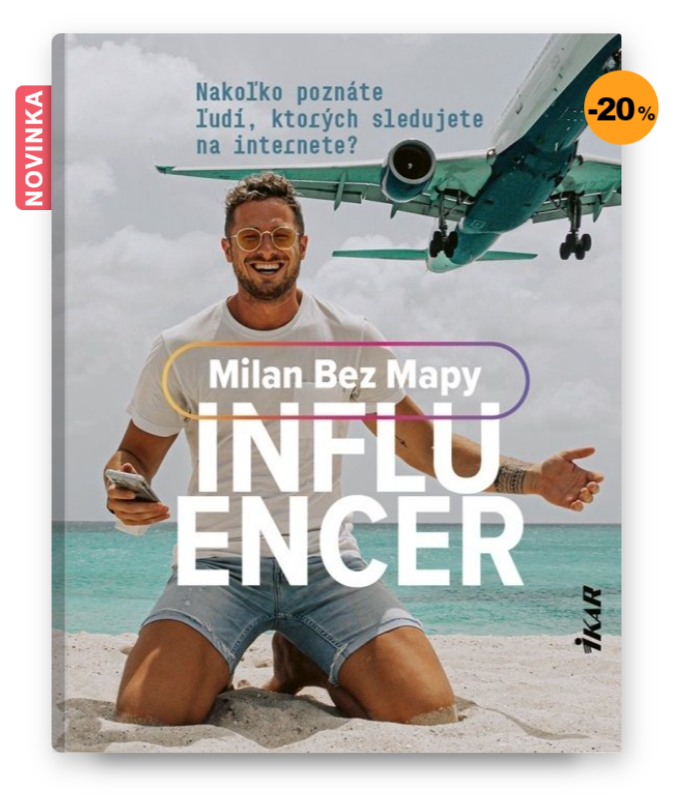 Je to otvorená spoveď bez filtra o tom, kto stojí za značkou Milan Bez Mapy, jedného z najčítanejších cestovateľských blogov na Slovensku. Prečítajte si ju a sledujte ma na Instagrame @milan_bezmapy.
---