Have you thought whether cranberry jam from IKEA does really have a taste of fresh cranberries? I figured it out in a nature reserve Alam-Pedja in the heart of Estonia.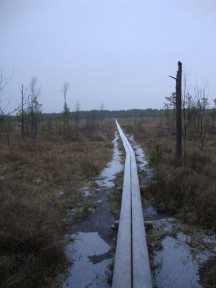 This nature reserve is more less one big bog, similar to that one in which Shrek lives. In Estonian Alam-Pedja means "lower Pedja" where Pedja is the name of the river that you can see here. From the city of Tartu it is a approx. 20 minutes by car drive and for a symbolic 1 euro, me and other students got here in hired bus that was delayed for almost 40 minutes. Since it was Sunday morning, after Saturday, I asked the driver whether he was "Party Hard" last night. He just laughed. This meant yes. Or?
At the entrance to the nature reserve you can spot typical board with a map and information on routes. We were a large group of international students from Slovakia, Poland , Czech Republic, Germany , Estonia , Italy, France , Iceland , the U.S. , China and Sri Lanka . Individual islands are connected by wooden lath which you can walk on safely . Although they look labile , can be relatively easily to walk on it with their width of 30 cm. I admit , sometimes I was scared to go on these panicles, because I never knew how deep the water beneath me was. Surface water was either snowy and icy, or overgrown with wetland grasses . On the other hand, in many places there were pine trees growing up,  from which I judged, that the land can not be deep. Anyway, none of us has tried it . Get lost in a frozen bog somewhere in Estonia in the middle of December, is the last thing I wanted to experience. The tour guide told us interesting facts about this site. For example, that one-fifth of Estonia is formed by marshes. I can truly imagine this, since whole Estonia is flat country. The most represented tree species in Estonia is Scots pine ( Pinus sylvestris ) and birch ( Betula ) which was also clearly visible here in bog , and many of us would realize this without the guide. I guess. There was one thing I liked very much – Cranberries . Cranberries everywhere. We literally stumbled on them . At this time of year the plants have had a lot of berries, and the islands had a wide cranberry undergrowth. I can imagine the end of August as hundreds of grandmothers with baskets are wading marsh just to sell cranberries on the markets. I bent and one I tasted . My life has changed.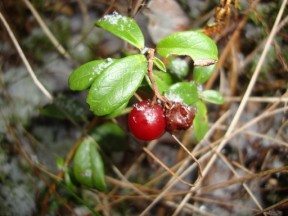 Whenever my mom bought at IKEA "Sylt Lingon" what is cranberry jam, I always went to the fridge with spoon and wondered how real cranberry flavor taste. It tastes exactly the same! I have never associated "Sylt Lingon" with cranberries, it was just a jam. And when I tasted my first cranberries in life, here in Alam-Pedja in Estonia during the terrible winter and snow, I realized that the miracle in the refrigerator was cranberry jam.
Our expedition continued to the cottage in the area. It was not a cottage, more wooden house on high legs with a lot of stairs. Here we lit candles, poured hot tea and ate Estonian Christmas cake that tasted phenomenal. Especially gingerbread.
After filling stomachs, we moved to a bus and drove back to the Tartu.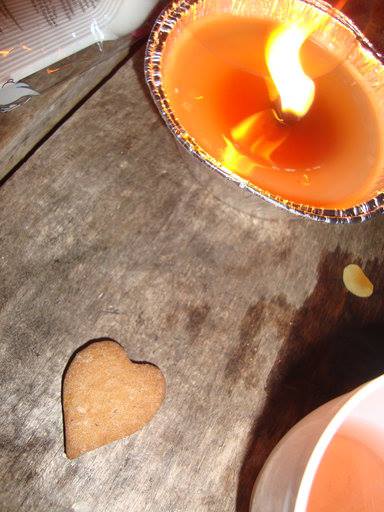 Alam-Pedja demonstrates the Estonian landscape, plants, pine and birch. You can go on the adrenaline panicles leaders across the marsh, cross small islands, read about the local flora and fauna of information boards which are in English. Alam-Pedja is not a major tourist attraction, so more cranberries will remain to you in the summer.
Milan Bardún 2013