Vitajte na blogu Milana Bez Mapy, ktorý trhá Slovákov z kancelárskych stoličiek od roku 2013. Otázky k článku píšte dole do komentára, sledujte ma na Instagrame, a hlavne, cestujte :)
---
I recently read an article, where Bratislava was listed as the most underrated city in the Europe and in some way must agree. Many people don't know where Bratislava is and mostly it's popular among backpackers and day visitors from Vienna. If you're unsure whether should visit this capital of Slovakia or no, read this post first and then make the decision. There are at least 7 reasons to visit Bratislava.
1. CHEAP ACCOMODATION
Yep, the accommodation in Bratislava is relatively cheap comparing to the other cities around. If you're either backpacker or prefer hotel stays, you won't spend much money in any way. The hostels start from € 10 per night in shared rooms in downtown and hotels are around € 30 – 40 for double room with breakfast in 3 or 4 stars hotel. There's no doubt, that the living costs in Bratislava are way more acceptable and wallet friendly either for long term travellers or weekend breaks.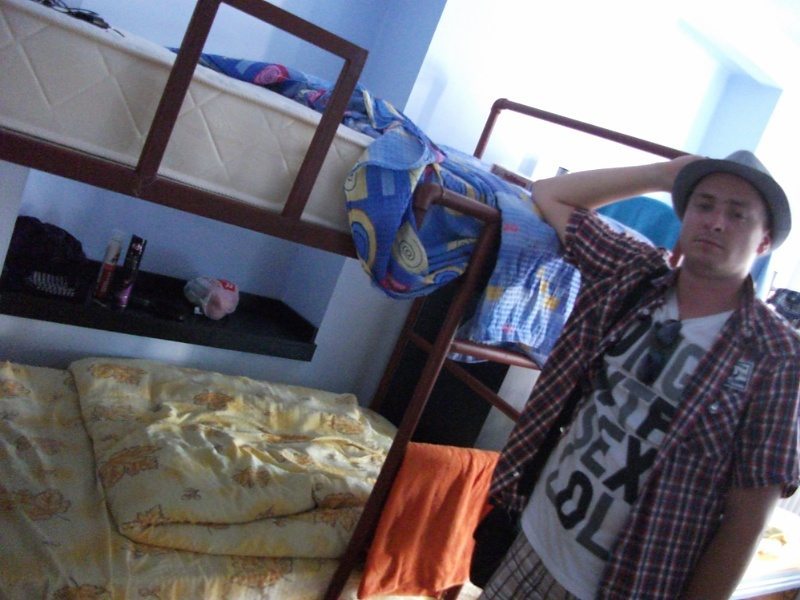 Whether you prefer hostels or hotels, there is always something that fits your requirements
2. € CUREENCY
For me personally changing money to local currencies of countries I visit is very bothering, since I'm not good at maths and I could get cheated easily by tricky exchangers. That's why I really enjoy travelling to countries, where the currency is the same as I'm used for. It has been few years since the Slovakia has joined the European union and later after that we changed local currency from Koruna to Euro. So if you're travelling around European union, mostly you can pay with Euro, so don't worry – coming to Slovakia doesn't require you to change your money anymore.
3. GIRLS
Just to mention, according to tons of researches done trough many years, the girls of Slovakia are the most beautiful women on the world ;)
4. FREE SUNDAY
Did you know, that there are even more ways how to save money on your Bratislava trip? If you come to visit it on the first Sunday of the month, you're free from paying entrance fees and admissions to galleries and museums. Not many visitors know about this, but if you want to know something about history of Slovakia and Bratislava, plan your visit on the first Sunday of the month. I strongly recommend you to visit Bratislava Castle and Michael's gate in the old town, to see Bratislava's rooftops closely.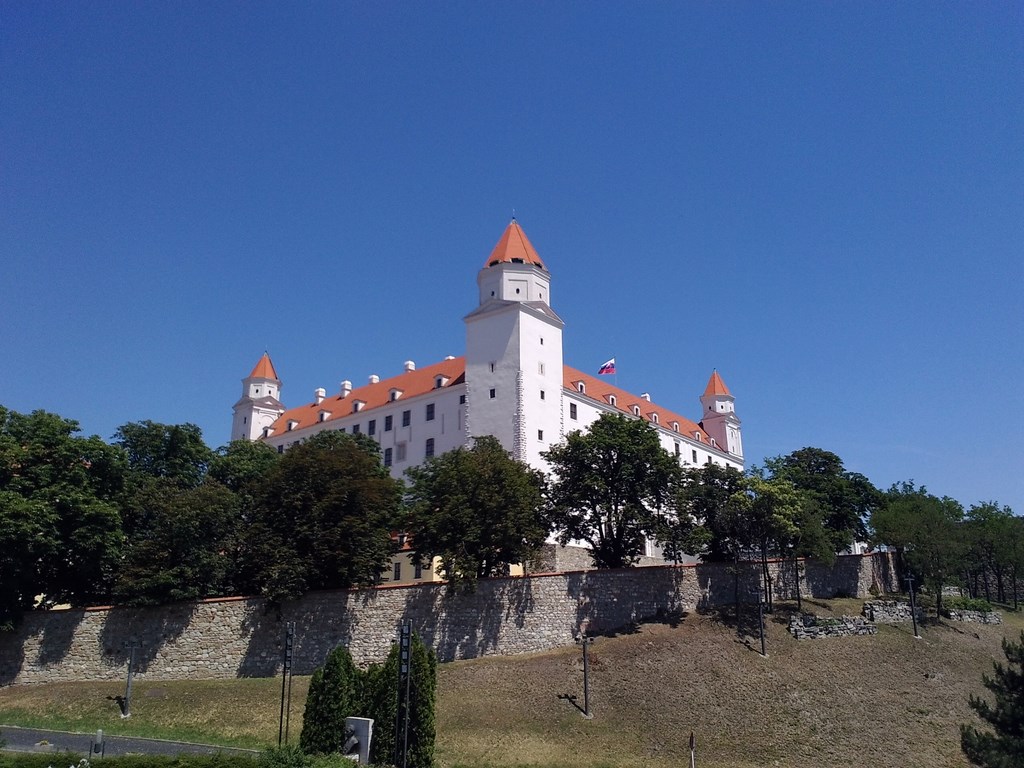 Bratislava castle
5. BRATISLAVA IS SMALL
This is another advantage of Bratislava – it's really small with less than 500 000 residents. You don't have to use public transportation and if you have enough time on your own, you can literally walk anywhere you like. Everything important and interesting is in and around old town, so your legs may get hurt, but your wallet won't ;)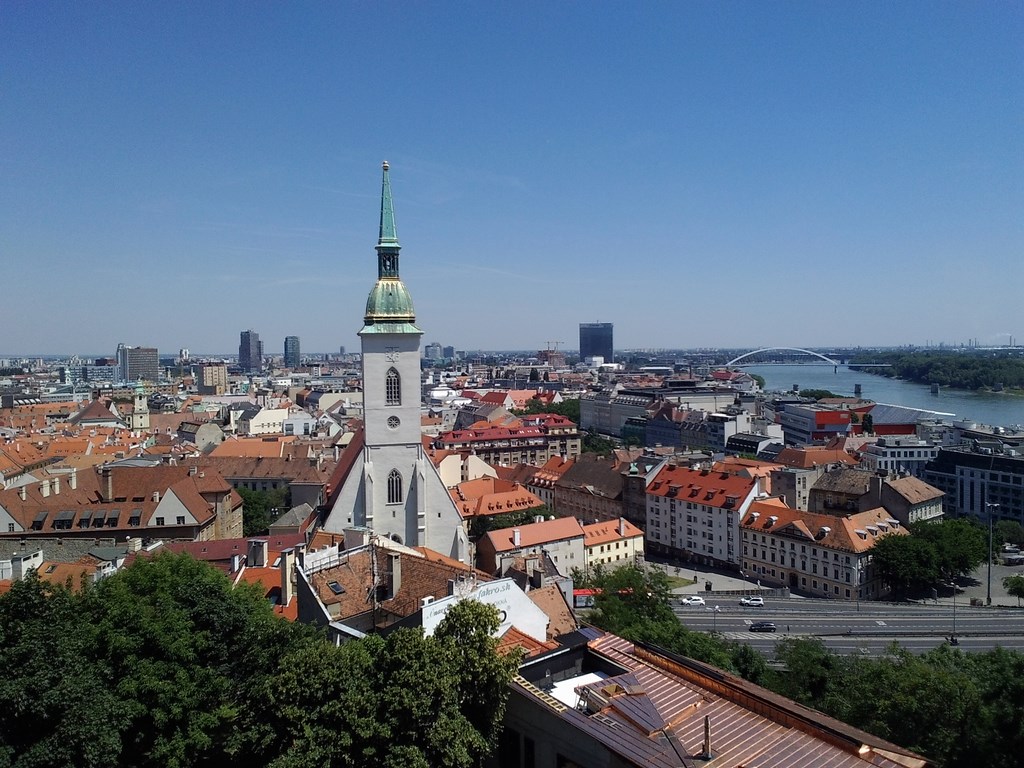 the old town of Bratislava
6. THE CENTRE OF EUROPE
Another important point – the geographical centre of Europe lies in Slovakia! Although it's not right in Bratislava, it brings a lot of benefits with that fact anyway. Bratislava is probably the most reachable city in the Europe and you can get here from Prague in 4 hours by car, from Vienna in 1 hour and from Budapest in 3 hours. You can fly to Bratislava from many destinations like London, Brussels, Rome, Moscow or Dubai for very fair prices (for eg. tickets from London cost around € 25 one way and the flight doesn't take more than 2 hours).
7. LOCAL FOOD, WINE & BEER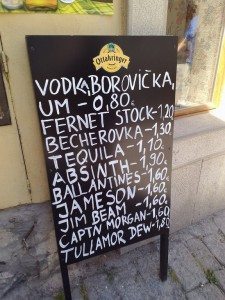 Many visitors go to Slovakia to taste our local food and beverages. The national dish of Slovakia is sheep cheese dumplings (Bryndzove halusky) usually served with bacon. If you go bit out of the old town, towards Rača district, there are many wine yards around, where we produce our own brands of high quality kinds of wine, that are always part of the national competition 'The wine of year' where 3 best brands of wine are selected every eyar. If you prefer beer except of wine and happen to be around, ask for CORGON draught beer or any other Slovak beer. All of them are tasteful :)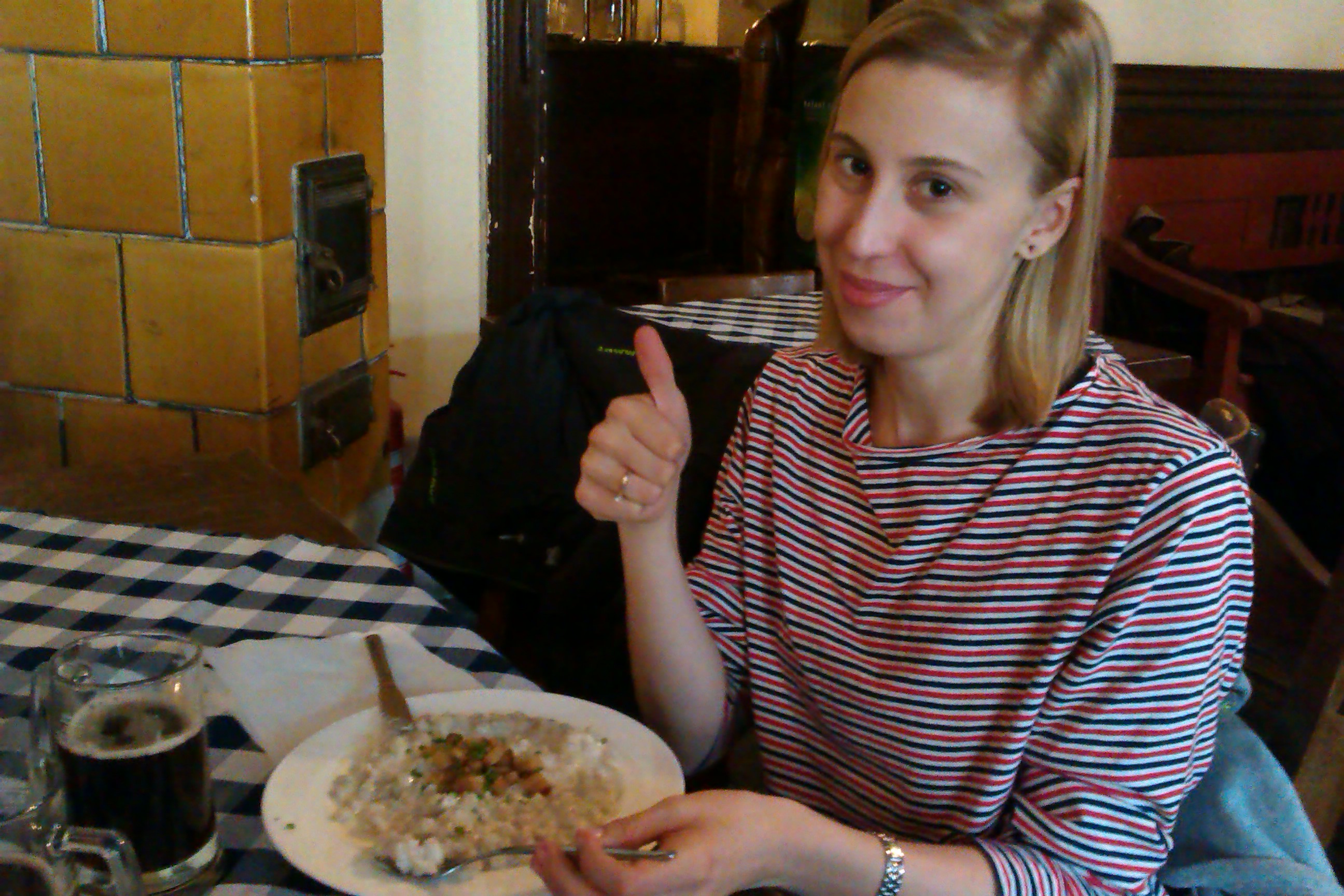 friend of mine Gloria from Austria is enjoying traditional Slovak food – sheep cheese dumplings
If you happen to be around central Europe and have couple days off, hit Bratislava to see it and to taste it. It won't cost you much, but you'll enrich yourself for great experiences with the capital of Slovakia. If you are looking for any top things to do in Bratislava, check my post One Day In Bratislava – tips by local.
Milan Bardun because it is better to travel, than to arrive
Vitajte na blogu Milana Bez Mapy, ktorý trhá Slovákov z kancelárskych stoličiek od roku 2013. Otázky k článku píšte dole do komentára, sledujte ma na Instagrame, a hlavne, cestujte :)
---