Vitajte na blogu Milana Bez Mapy, ktorý trhá Slovákov z kancelárskych stoličiek od roku 2013. Otázky k článku píšte dole do komentára, sledujte ma na Instagrame, a hlavne, cestujte :)
---
Serbian food is amazing. To be honest, I have never tried it before and I believe, that I gained some weight in there. On my holiday in Niš, I tried almost everything and already have some favorite Serbian food, that I miss back home. Eating in Serbia is big deal and they love it. People usually gather in kafanas to celebrate food, talk about politics and life. However, as soon as I got back home, I stuck back to my healthy diet, because Serbia treated me very well. Let's have a look.
Must try Serbian food to taste on your visit
How to eat like Serbian?
If I lived in Serbia, I'd be fat, probably. They eat a lot and often. Whenever, I came to the restaurant in Niš with my friends, they all started ordering plenty of food. When it comes to eating in my home country (Slovakia), we usually have a soup and the main course. But not in Serbia. They start with starter, which is usually a salad or cheese with their traditional alcoholic drink, Rakija.
When I finished the starter, I was full already. After the starter, the main course comes, which usually consist from pork or any kind of meat. After the main course, there is a dessert with coffee. Serbians eat for hours, smoke and drink home made coffee. Well, this was something brand new for me, but I liked it very much.
Kafana is something like Serbian religion
Kafana is cafe, where all Serbians meet, eat and drink. Kafana is very popular Serbian thing and for them it's like a religion. There are kafanas everywhere, but not like those in Italy, where you have small espresso and leave after a while. Serbian style of cafe is completely new experience. You better book your table.
---
Check: Most of my time I stayed in Niš. Check, what to see in Niš.
---
Serbian food, that I loved the most
Burek is great Serbian breakfast and start for the day
What I loved in Serbia was, that they have bakeries almost everywhere. Coming to bakery for fresh burek with yogurt on every morning became my ritual. But what burek is? It is a delicious Balkan thing. You can have it vegetarian, with cheese or even with pork meat. Basically, it's a pie filled with fresh ingredients. My favourite one is cheese one with white yogurt. There is a pie called sukana pita, which is homemade crusts. Is another traditional Serbian food, that I liked very much. It reminded me of burek, tho.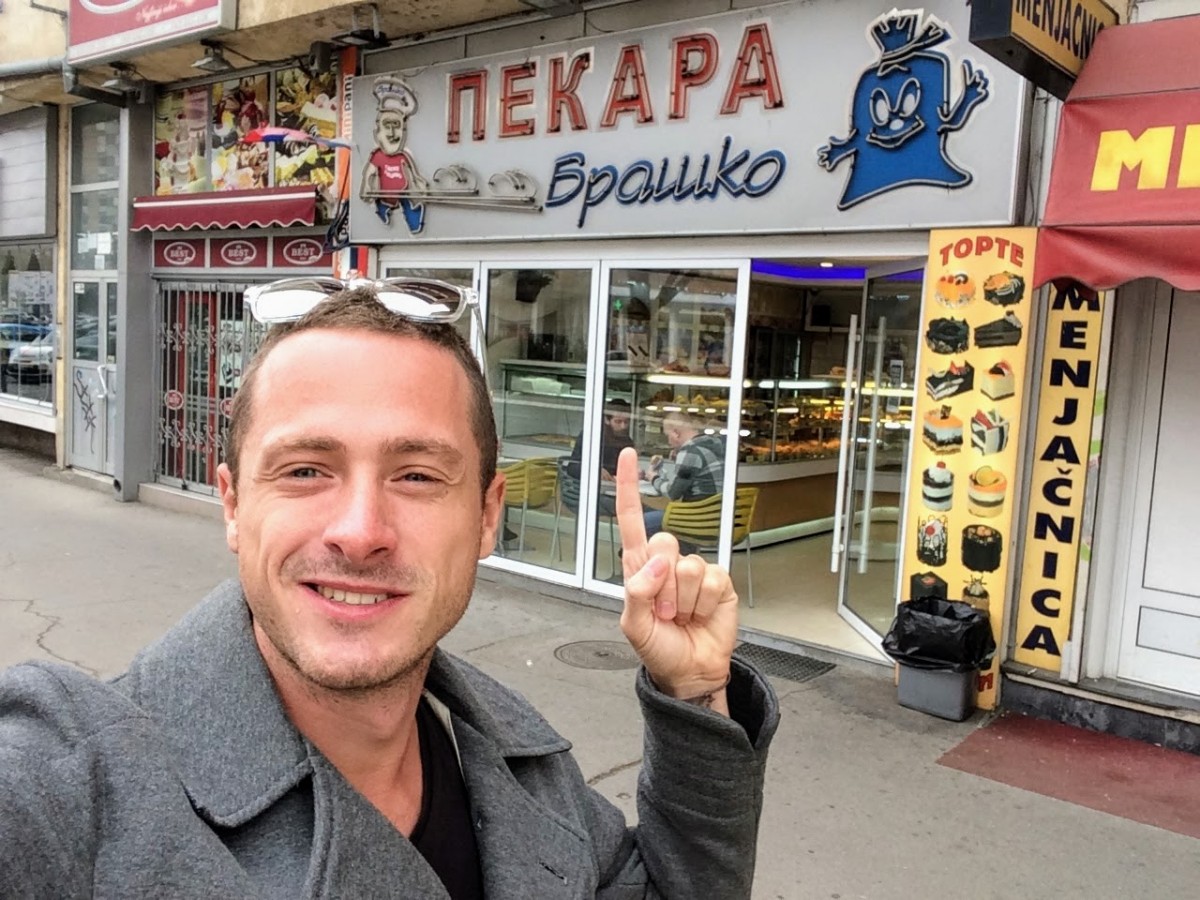 The best burek I had was in Niš in Braško bakery. Just google Pekara Brasko, it's right in the city center.
Pljeskavica is XXXXXXL Serbian burger
Honestly, when I heard about pljeskavica for the first time, I thought, it was an alcohol. Luckily, nope. It's homemade Serbian burger with a load of meat (pork or beef). I had my pljeskavica more than once and was sooo full. It can be served with any kind of vegetables, cabbage and so on.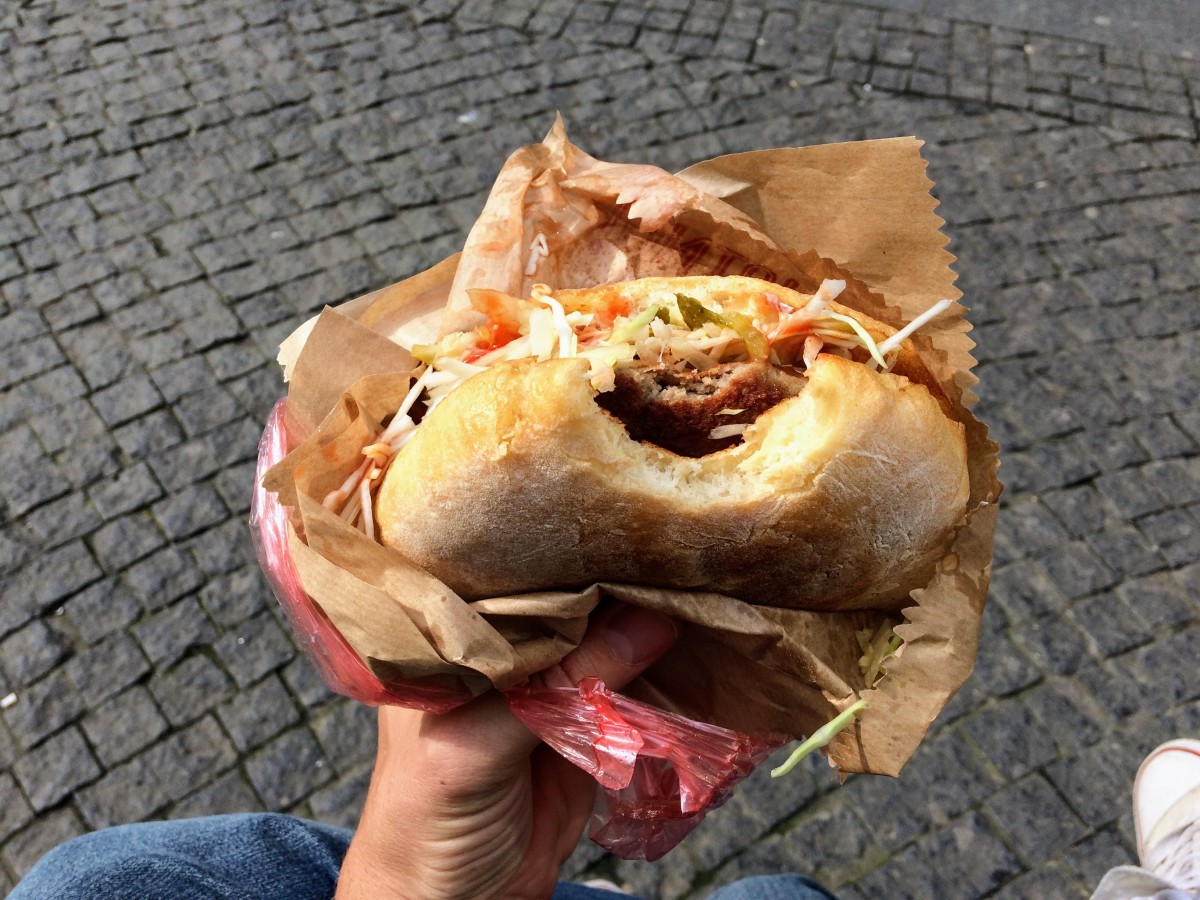 Salty pancake
When you say Serbia, I say salty pancake. If you happen to be in Niš, definitely visit Tramvaj bar in the city center and order "slana palacinka", which is the translation for salty pancake. In some way, it tasted like pizza, but it was very good. As I was walking around Niš, I noticed some street food stalls with salty pancakes, too.
What to eat in Serbia? Well, Serbian food is just amazing. My most favourite is burek with cheese and I can't wait to have it again.
Milan Bez Mapy, bringing the world to your homes since 2013
Vitajte na blogu Milana Bez Mapy, ktorý trhá Slovákov z kancelárskych stoličiek od roku 2013. Otázky k článku píšte dole do komentára, sledujte ma na Instagrame, a hlavne, cestujte :)
---