I'm just lying on my bed and writing these words, since I have nothing else to do. I was told, that the hurricane is coming and therefore everything stopped working. Literally.
Past three days were not that perfect as I would like to, heavy rain, storms and strong wind. And now it looks exactly the same, but now even the internet is not working. When the internet worked I  got the warning email, that there is hurricane forming on the Atlantic ocean and may get hit the east coast. Fortunately, I live almost two hours drive from the coast, but I got affected too. Not that hard, but I had to change all my plans. This situation has reminded me of my cancelled ferry to Helsinki from Tallinn, due the storm and how mad I was.
Today is the fourth July and I imagined this day little different. We were supposed to have celebrations of Independence day, but the weather didn't allow us to do so. I woke up this morning and tried to connect the internet – not working. Okay, nothing unusual since it barely worked past days, but this was only the beginning and there was a long day going to come. Don't worry, the hurricane wasn't that strong so we didn't have to evacuate the whole summer camp but when the storm shut down the electricity, the real fun started.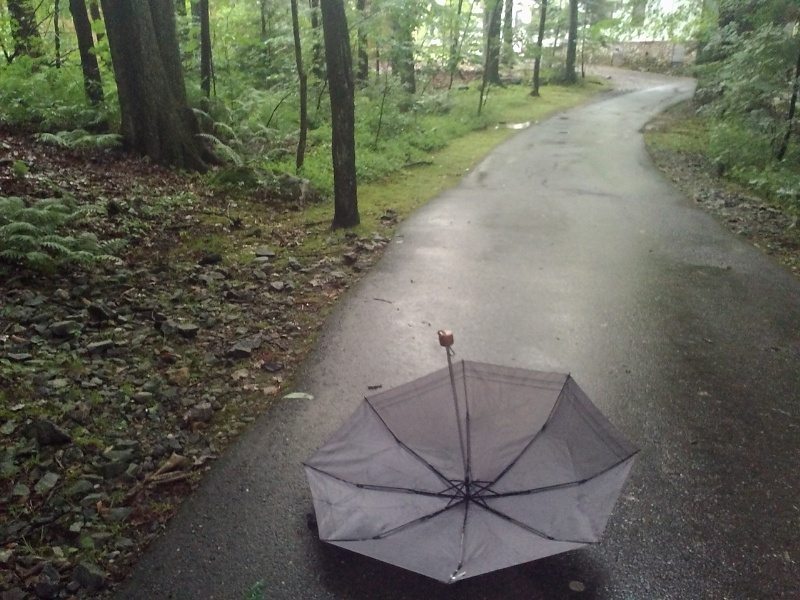 Okay, I didn't know what was going on in news in Slovakia, and I didn't know if anyone was worried about me. I just don't check Slovakian news when I'm abroad and this made me nervous. What if news in Slovakia are overstating the information about hurricane, as they are overstating everything? What if my family is freaking out? That were the questions running in my head whole day long. So I decided to contact them. Can you imagine me with broken umbrella in strong wind and heavy rain trying to reach signal for my cell? I was walking around the forest for at least 20 minutes, felt cold, been wet and desperate. No service. I went back to the bunk to write this article.
When the dark came, I got hungry. But what now? Another adventure was waiting for me. Since the electricity was only nice wish, whole camp was so dark. I always loved to watch to the people's windows while black out, how they walk in their houses only with small candles and flashlights but now I got scared. My camp is in the middle of forests, somewhere between Montreal and Boston and when I walked out, I have never seen such dark. Really. It was just silence everywhere, what you could hear was just raindrops falling on the leaves and strong wind. Since many of my friends saw bears here before, I decided to walk back and trying to get some sleep. This was the only thing I could do.
The next morning I woke up to totally different world. Clear sky and warm sun lights. I couldn't believe that and for I second I though, that the whole hurricane Arthur was just only dream.
Milan Bardun 2014